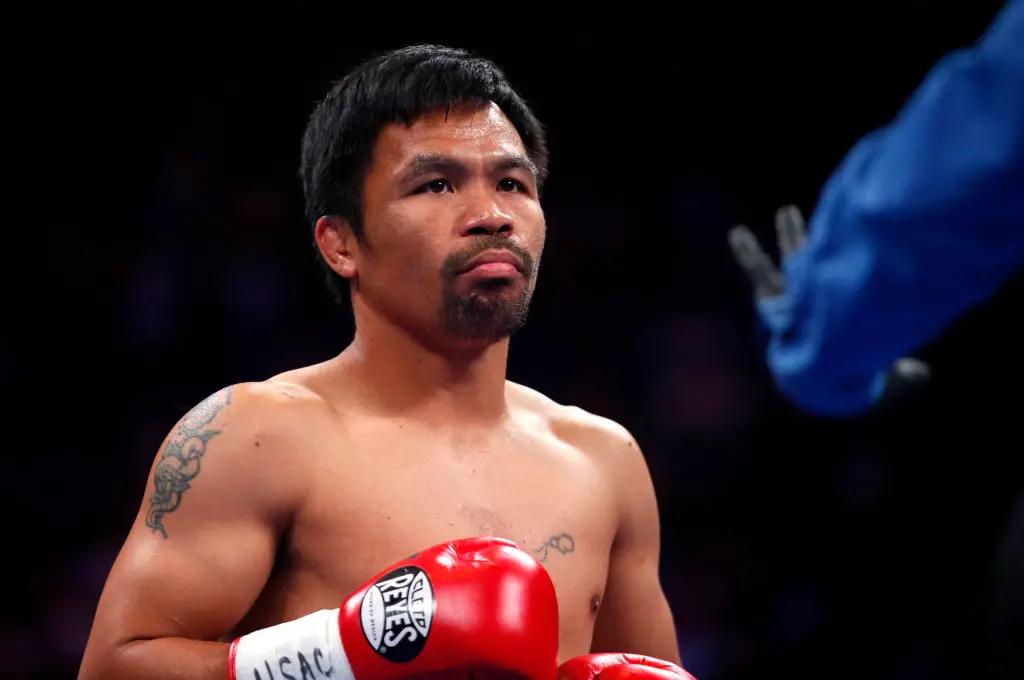 Champ Manny Pacquiao sued
Manny Pacquiao headed for a different fight venue
Future Hall of Famer Manny Pacquiao is the subject of a breach of contract lawsuit filed by Paradigm Sports Management, a sports agency that represents him and UFC star, Conor McGregor.
In the lawsuit filed in the Orange County branch of the Superior Court of California Paradigm Sports Management alleges that Pacquiao breached the contract when he agreed to fight Errol Spence Jr. for Spence Jr.'s WBC and IBF welterweight titles on Aug. 21 at T-Mobile Arena in Las Vegas.
Pacquiao was believed to be set to fight Mexican American Mikey Garcia on May 15 in Dubai. 
There's a lot in this lawsuit. Paradigm Sports Management asks for injunctive relief, in other words, to prevent the Pacquiao- Spence fight. PSM also asked for the return of a $3.3 million contractual advance.  
Predictably, Pacquiao denies all allegations. 
Lonely summers at old farms
It's summertime and we are in a post-social distancing mandate state in most, if not all parts of the country. After last summer's lockdown, there's a desire for people to be outside and together. For many people and for many years, baseball stadiums have been that gathering place. 
However, for some areas, there's no baseball this summer. In December, Major League Baseball, determined to lower franchise expenses, contracted the minor league system, effectively eliminating 40 minor league teams and thus leaving municipalities without tenants for their baseball stadiums. 
Left to fend for themselves, municipalities are coming up with creative solutions to address the issue of these empty stadiums. Local governments are looking to, among other things, convert the stadiums into athletic complexes to attract youth sports. Some cities are even looking into demolishing their stadiums. 
This New York Times article  give us insight into what these cities are going through, after the loss of their minor league teams. Baseball may never come back  to these areas, but there are other uses for some of these stadiums.  
NHL outreach to Latino community
While there have been only a few Latino players in National Hockey League history , the league and individual teams are trying to attract Latino communities and the Latino fan.
For example, the NHL website is now available to Spanish speaking fans. 
We appreciate leagues reaching out to Latino fans. 
Anecdotally, I know that there is a significant number of Latino Los Angeles Kings fans. 
We hope to see both NHL and minor league hockey teams continue to undertake outreach efforts and organize Hispanic Heritage nights and the like. 
Boxing business 
It was a quiet Fourth of July weekend for boxing without any boxing matches of note on the calendar. 
Promoters and networks likely believed that it would be difficult to get bodies in seats and eyeballs on screens over the holiday weekend. Yet, the business of boxing didn't take a hiatus last week. 
Filipino legend and bantamweight champion Nonito Donaire canceled a scheduled world title unification fight with fellow Filipino John Riel Casimero. 
The two Pinoys were set to clash on Aug. 14 at Dignity Health Sports Park in Carson, Calif.
This was set to be an epic matchup, but Donaire canceled the fight. Donaire was uneasy with what he perceived to be Casimero's "unprofessional behavior," specifically graphic taunts aimed at Donaire's wife by members of Casimero's team, and Casimero's delayed enrollment in random drug testing programs. 
In somewhat of a surprise, especially in an industry that is big on promoting fights through controversial, often line-stepping behavior, the California State Athletic Commission by all accounts, appears to support Donaire's cancelation. It issued a warning to Casimero's camp. 
Donaire and Casimero aren't the only Filipino fighters making headlines in the business of boxing. 
Soccer agent power
I once thought people wanted to see how the sausage got made. 
I'm beginning to think that is not the case. People like being blissfully ignorant of the decision-making process of their teams.
The New York Times covers how former Fiorentina (Serie A) managerGennaro Gattuso came to lead the team, but also what led to his quick demise in a less than one month tenure with the club. The article suggests that Jorge Mendes, Gattuso's agent, attempted to have club officials acquire players that Mendes represents.  
"Electric youth" soccer
Olivia Moultrie can't drive a car in most states, but she can play for an National Women's Soccer League team. 
Moultrie, 15, became the youngest NWSL player in league history when she signed a three-year contract with the Portland Thorns.
Molutrie signed with the Thorns after having first filed suit against the league for placing  age restrictions on participating players. Her lawsuit resulted in the granting of a preliminary injunction, which prohibited the league from enforcing the pre-existing age prohibition. 
She has enjoyed a relationship with the Thorns since she was 13, playing in scrimmages and preseason games as a member of the squad. Also at the age of 13, Moultrie gave up her NCAA eligibility and signed with an agent and entered into an endorsement contract with Nike. 
In the discussion of her foregoing eligibility, we don't see media pundits discussing whether she will receive an education or not.
Somehow that analysis is reserved for those in revenue-generating sports. It feels like that educational argument is the preferred argument used to suppress wages of the top revenue generators in college athletics, football players and men's basketball players.
Get the Our Esquina Email Newsletter
By submitting your email, you are agreeing to receive additional communications and exclusive content from Our Esquina. You can unsubscribe at any time.