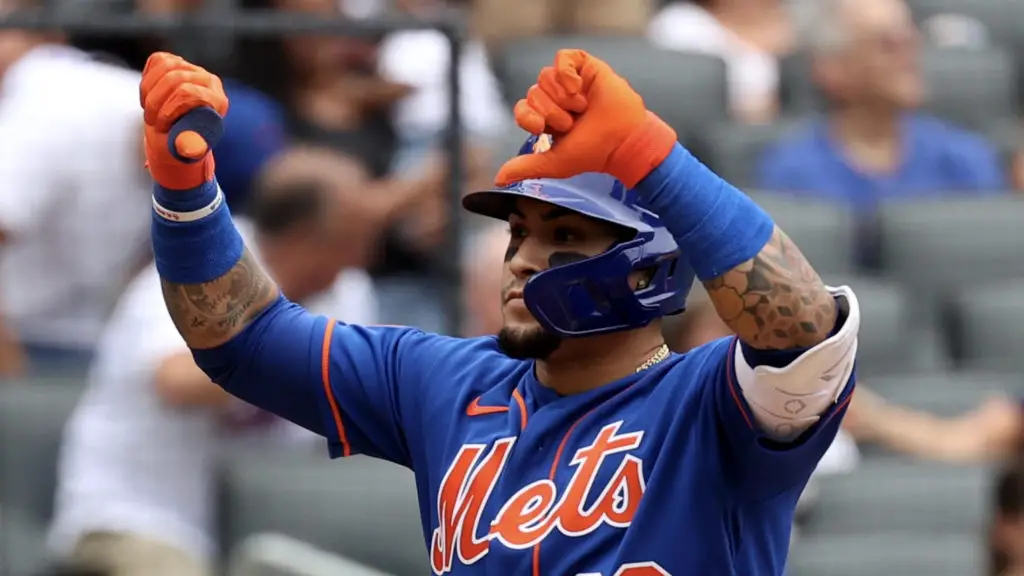 Javy Baez Strikes Out Again With Thumbs Down
Javy Baez and Francisco Lindor give Mets fans thumbs down
It's not often that you see a professional athlete challenge his own fan base. This weekend, Javier Báez, the newly acquired star infielder for the New York Mets, did just that.
Taking a page out of former New York Yankees pitcher Jack McDowel, who flipped off the fans as he walked into the dugout back in 1995, Baéz is using his own hand gestures to give it to the fans. Crossing home plate after a home run trot, Báez held both thumbs down as he walked into the dugout.
Sure, it's Javy's right to respond in whichever way he sees fit, but he better do it on the field too. And he's not speaking up where it matters most. He has the second worst fWAR for a hitter on the team.
If he doesn't put up, he's set to be shut up by the fans.
Javy Baez owned the tabloid back pages
"It just feels bad when I strike out and I get booed," he said in his postgame Zoom conference. "It doesn't really get to me, but I want to let them know that when we succeed, we're going to do the same thing to let them know how it feels."
Báez isn't the only one clapping back either. Francisco Lindor and Kevin Pillar also used the gesture. In Pillar's case, he says that it's all in good fun and teammate Marcus Stroman says it's all just a made up media narrative
Perhaps they should talk to their teammate, who took credit for the gesture and explained its meaning.
"When we don't get success, we're going to get booed," he said. "So, they're going to get booed when we get success."
Mets front office sides with fans
In fairness to the fans, when the Mets traded for Javier Báez at the deadline, they signaled to their rivals that they were all in. That was back on July 30 when the team boasted a 54-48 record and had a 3 ½ game lead in their division.
Since then, it has all imploded. The Mets are now in third place with a 63-67 record and they trail the Atlanta Braves by seven games.
But wait, there's more. 
Acting general manager Zack Scott blasted the team for being "undisciplined." Apparently, he has the backing of billionaire owner Steve Cohen, who concurred in a twitter post.
To top things off, their prized deadline acquisition to this point has been a total dud. Since joining the team, Báez has a .210 batting average and a .709 OPS. His 153 strikeouts lead all of Major League Baseball.
Now, after the thumbs down fiasco, the Queens faithful are poised to give it back and justifiably so. To add insult to injury, the Mets themselves were the first to admonish their star infielder and any player who followed his lead.
"These comments, and any gestures by him or other players with a similar intent," Mets president Sandy Alderson said in a statement. "Are totally unacceptable and will not be tolerated."
Javier Báez isn't ready for what's coming
If there's one thing you should know about playing in New York, it's that not everyone is built for it. New Yorkers aren't afraid to let you know when you're not performing up to par, and that's precisely what Javy and the Mets are: subpar.
New Yorkers booed Mariano Rivera – the greatest closer of all time – after a bad stretch during the regular season. They jeered Hall of Famer Derek Jeter after a forgettable 0-32 streak back in 2004. Even Mets fans booed David Wright after striking out in a meaningless game back in April of 2010.
In the Big Apple, you're expected to perform at your highest level, and if you don't, you will be reminded of it every day.
Báez was brought in to catapult a team that looked poised for their first postseason appearance since 2016. Instead, they got worse and the fans let them and their underperforming newly acquired star know it.
Featured photo by Dustin Satloff/Getty Images.
Get the Our Esquina Email Newsletter
By submitting your email, you are agreeing to receive additional communications and exclusive content from Our Esquina. You can unsubscribe at any time.