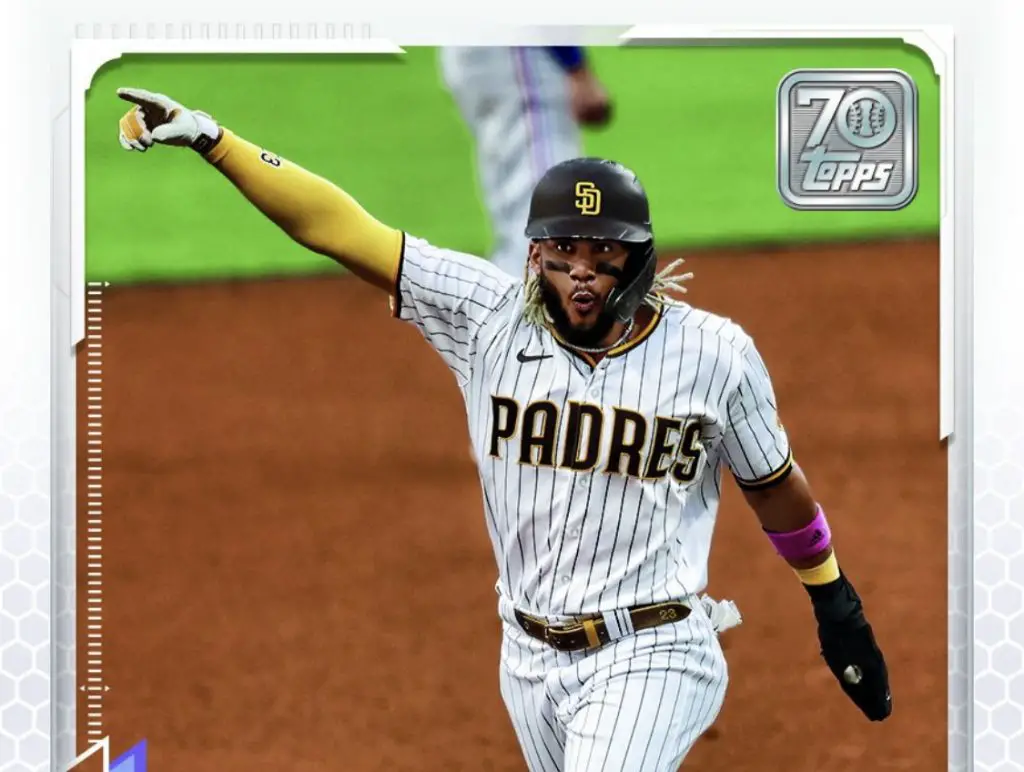 Fernando Tatís tops Topps, Canelo Alvarez fight set
Welcome to Que Onda, Our Esquina's twice weekly, soon to be daily, all you need to know in Latino sports and culture today. Fernando Tatís Jr. gets Topps' top spot
Fernando Tatís Jr.'s rise to superstardom isn't stopping anytime soon. The electrifying 22-year-old shortstop was named the No. 1 card in Topps' 2021 Series 1 set late Thursday. 
In being named the No. 1 card in 2021's setlist, Tatís joins Ronald Acuña Jr. as the only Latino players to be No. 1 since Topps opened the honor to fan voting in 2016. 
Historically speaking, Tatís joins an elite group of Latinos to ever be No. 1 since the company began featuring No. 1 cards in 1952. Ted Williams was the first Latino to be recognized as card No. 1. Tony Armas, Pedro Martínez and Alex Rodriguez have all been recognized individually while other Latino stars such as Rod Carew, Roberto Clemente and Tony Oliva have been included as part of group cards. 
If you're curious about every No. 1 in history, Cut4 compiled them all in a video. 
The New Face of Baseball? 
Tatis is quickly becoming one of baseball's most popular and marketable stars. In addition to the Topps designation, Tatís is a Gatorade sponsored athlete under the brand's "Bolt24" brand of products, and can be seen in a nationally televised commercial. 
Tatís is also sponsored by Adidas, Mizuno, Victus and Hyperice products, 
In February, video game developer San Diego Studio is set to reveal info surrounding its MLB: The Show video game franchise, including its cover star. Tatís has long been seen as a favorite to earn the nod. Should he become the game's cover athlete, it would mark the second time in the game's history that Latino players star as back-to-back cover athletes. Javier Bàez earned the nomination in 2020. 
Lucha Libre on Disney Channel
Lucha libre has been on television for many decades, but beginning very soon it will gain a recognizable home in the form of a live-action series on the Disney Channel. 
Per Deadline, Disney has given a series order to a new show titled "Ultra Violet and Blue Demon," a superhero coming-of-age story starring real-life professional wrestler Blue Demon Jr., the successor to the deceased popular lucha libre star Blue Demon. 
The story will see "Violet," played by Scarlett Estevez, take on the mantle of Ultra, the superhero successor to her uncle Blue Demon Jr. It will showcase Violet navigating the world of crime fighting and middle school alongside her uncle and family. 
"Blue Demon Jr. is a Mexican cultural icon and we are looking forward to introducing him—and the luchador mythology—to our viewers," Rafael Garcia, vice president, Development, Disney Branded Television told Deadline. 
The series continues Disney's recent push into the Latino market. Previously, the conglomerate's Pixar subsidiary released "Coco" in 2017 and in 2016 debuted "Elena of Avalor," an animated show featuring Disney's first Latina princess. A separate animated movie based in Colombia titled "Encanto" is set to premiere in the fall. 
Canelo set to fight in May 
Per The Athletic's Mike Coppinger, the No. 1-ranked pound-for-pound boxer Canelo Alvarez has agreed to fight Billy Joe Saunders in May with three 168-pound titles up for grabs. 
This would be the seventh time Alvarez fights on the weekend on or around Cinco de Mayo. A location hasn't been determined. Per ESPN's Salvador Rodriguez, the Raiders' Allegiant Stadium is the preferred venue.
Alvarez will take on Avni Yildirim on Feb. 27. 
En Social 
Dodgers fans weren't expecting to cry late Thursday night. Former infielder Kike Hernández ensured otherwise when he posted a heartfelt thank you video to social media.
Hernández recently inked a two-year $14 million deal that will reunite him with Alex Verdugo on the Boston Red Sox, helping to create a majorly Latino lineup in Beantown. 
The 29-year-old super utility man played six seasons with the Dodgers after being traded over from the Marlins. In each of those six seasons, the Dodgers captured the NL West and made three World Series appearances, finally winning it all in 2020. 
Hernández will go down as a fan favorite Dodger. His clutch home run during the 2020 NLCS will live on throughout Dodgers lore.
En Historia
This week we celebrate the anniversaries of Super Bowl XXVI and XXXVII and not because the Raiders played in one of them. 
Rather, these Super Bowls in particular represent the few times Latinos graced the stage and performed during the festivities and up until last year were the only such instances. 
In 1992, Cuban-American Gloria Estefan became the first Latina to anchor the Super Bowl halftime show when she sang during the halftime show as part of a tribute to the Winter Olympics. 
She would grace the stage one more time in 1999 and even received an invite to perform alongside Jennifer Lopez and Shakira in 2020. 
In 2003, Mexican guitarist Carlos Santana performed in a pregame concert alongside Beyonce and Michelle Branch. 
Before taking the stage in an interview with Robin Roberts, Santana said, "I'm very grateful to be here representing the ghetto, the shantytown, the barrio, the hood, all the people who a lot of times seem like they're invisible. … I'm very grateful to represent the multi-rainbow thing that America is." 
Neither of these performances are as fondly remembered as Prince singing in the rain or Michael Jackson wowing the crowd. But for Latinos around the world it was a moment of visibility on a national level not often seen and for a while never again replicated. 
For that we remember these performances. 
Our Gente
The Los Angeles Angels have arguably the best player in baseball on its team and a new general manager to boot, so why haven't they signed reigning NL Cy Young winner Trevor Bauer? 
Los Angeles Times reporter Maria Torres explains why they haven't pursued the free agent pitcher and what options the Angels have in order to beef up its rotation ahead of the season. 
Get the Our Esquina Email Newsletter
By submitting your email, you are agreeing to receive additional communications and exclusive content from Our Esquina. You can unsubscribe at any time.