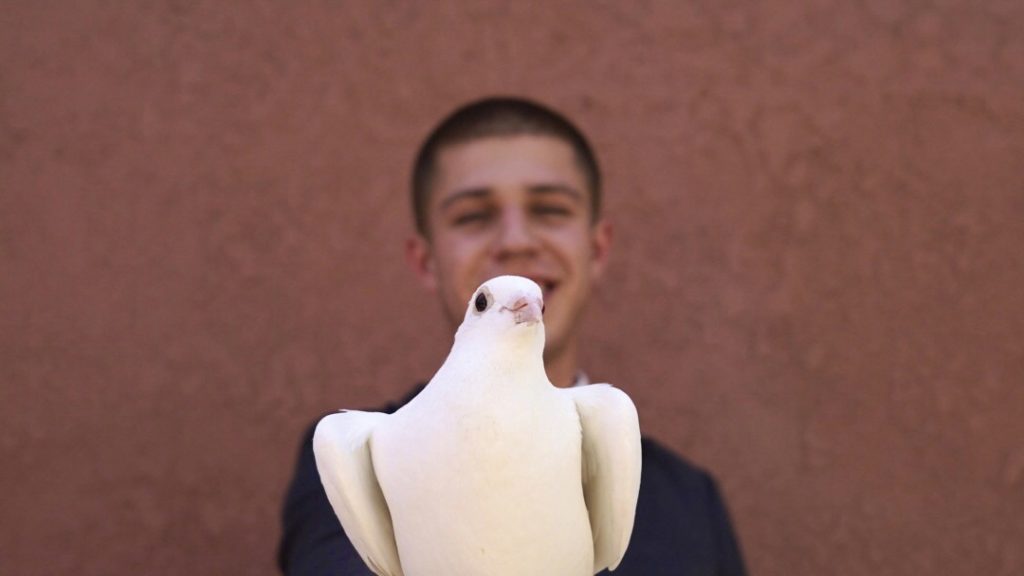 Dove Guy Steven Sandoval is Dope Foo'
Dove Guy has built tight bond with FGW crowd
The Foo's Gone Wide Instagram account has helped create a number of social media stars, including Steven Sandoval, better known as the "Dove Guy."  He has over 70,000 Instagram followers and a million followers on TikTok.  
Sandoval, 21, is a Mexican-American redhead with a strong East Los Angeles accent that suggests fluency in both English and Spanish. The red hair is sometimes the object of discussion on his posts.
In a recent interview, on comedian George Perez's podcast, Sandoval was referred to as "Can't-Elo" after similarly ginger Mexican boxer, Saul "Canelo" Alvarez. The hair is a thing because people wonder if he is truly Mexican. (Newsflash- Mexico is an ethnically diverse country). 
Like many of the FGW followers, Sandoval says "I didn't grow up in the streets, but I grew up around them."  He enjoys being part of the FGW scene. The "Dove Guy's TikTok (@thedoveguy)  and Instagram (@_thedoveguy) videos feature him handling white doves. It's not a schtick. He is in the dove business through his uncle Manuel Romero.  
Truly a Dove Guy
Dove Guy helps operate Romero's White Doves, a business that provides doves for special moments such as weddings, funerals and quinceañeras. The 2018 graduate of Oscar De La Hoya High School is usually dressed in a white collared shirt and skinny black tie in his videos.
He is often at a cemetery, preparing his birds for that day's work. He's the star of the show. The doves play a strong supporting role. His content ranges from insights into the business of raising doves, inspirational messages, and fun and light-hearted moments where Sandoval is seen dancing with doves in each hand. It's startling and, of course, entertaining.  
Sandoval loves the doves. To the extent that we can know or understand, the birds seemingly love him back. They return home after being released. There's a sweetness in how he talks to the birds, as if they were friends or loved ones. 
These videos were first disseminated by the Instagram account SoMexican. FGW followed suit, mentioning his Instagram account. This is the genesis of Dove Guy's ascending popularity.
One of Sandoval's most popular and controversial videos was when he addressed whether he was white or Mexican. There was some negative feedback on it that didn't resonate with Sandoval. 
His attitude is one that is reflective of many people that grow up in the Mexican-American community. To our collective credit and sometimes detriment, we don't necessarily get offended by the same things that perhaps others would.  
We become somewhat numb to slights. We've heard most of them, many of them in our own homes. This becomes an issue when we don't recognize that just because things don't hurt or we don't know how to express it, that it does hurt others. 
More than Doves
There's more to Sandoval and his account than doves. In non-bird videos, Sandoval gives viewers smatterings of life nuggets and sage advice that reflect significant emotional intelligence that springs up at various moments. For example, mental health is a frequent topic.  Sandoval's overtures are refreshing for a community that generally eschews that type of talk. 
It's these combinations of things that I suspect are the reasons why he is a favorite. He's embraced by the FGW fans. The account had a show on July 3 in Orange County.  Sandoval was asked to set the tone and welcome the crowd, a big task for a nascent, but popular venture such as FGW. 
The crowd was enthusiastic upon seeing Sandoval. He gave a eulogy, in character with two birds in hand and dressed as if he was at a funeral, bid farewell to "all the haters, lames, netbangers, racists," all villains in the FGW world.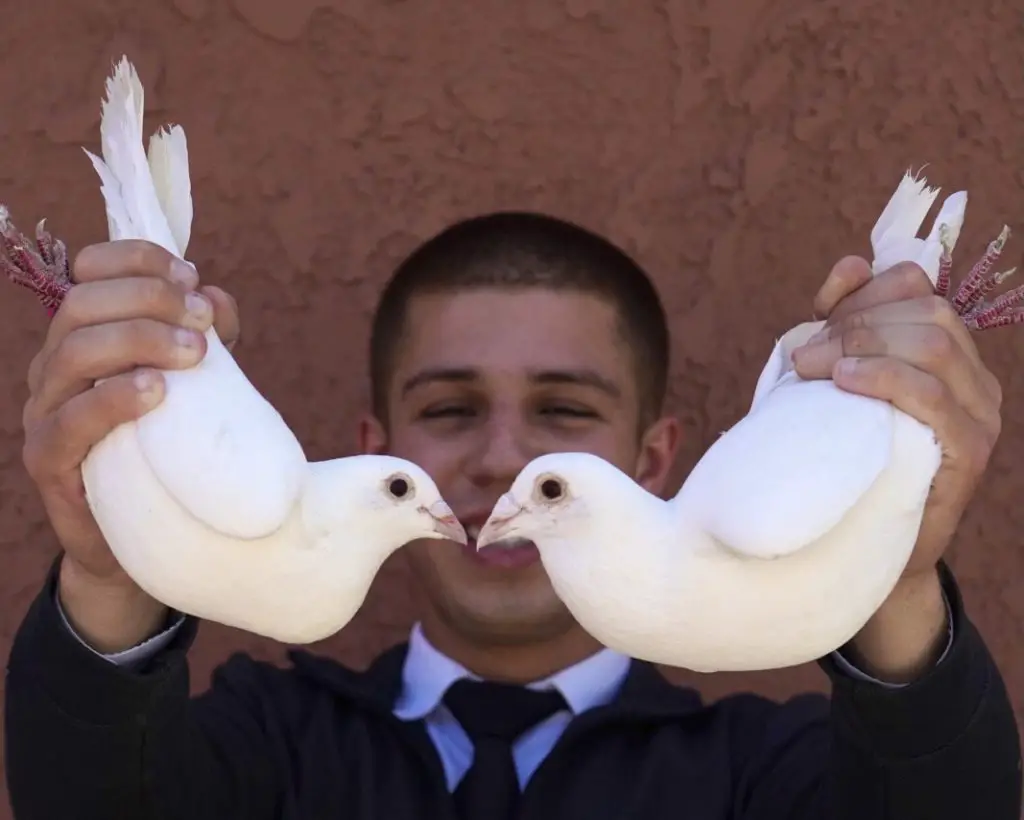 Sandoval demonstrated vulnerability by saying that addressing the crowd was similar to a funeral where he looks at everyone and no one and he still has his heart leave his chest when he speaks. 
A second FGW show is scheduled for Sept. 4. The Dove Guy cares about the followers much in the same way he cares for the birds. There is a genuine interest in his followers.
He's not interested in the numbers, but rather in what he can provide to them in terms of enjoyable and even positive content. One of Sandoval's aims is to make sure that people "smile and are happy." 
Different track
This is different from other social media stars and "influencers." With Dove Guy there's generally a discussion, if not obsession with gaining more followers or monetization of the account. 
It's a departure from his high school days when he was generally disinterested in school, and the social circles. A self-described loner, Sandoval wasn't into the traditional extracurricular activities or the small talk that is consistent with a high school experience. 
"I had friends," he says, "but I didn't really have a friend. You know?" 
Sandoval would go straight home at the end of the school day. When the bus was late, he would walk down the street and attempt to catch it at a later stop to avoid small talk, rather than stand and wait and get involved with the gossip of the day. 
It just wasn't that he wanted to leave school. He just had to hurry home and get started with the rest of his day. Whereas the school day signals the end of the day for many young people, his day was just beginning. 
"Dove Guy" needed to get home as quickly as possible to take care of a special needs older sister, Nancy, who suffers from epilectic seizures. Her school could not give her over to Steven's care because he was under age. He would pick her up from a neighbor's home as promptly as possible to not impose on them and their serenity. 
Sandoval's free time was spent helping take care of Nancy and working.  He would work more on the weekends, helping his uncle in various businesses. The time spent on those businesses developed skills that have helped him as "Dove Guy." 
Caring for family
For example, Sandoval's ease in front of the camera and an audience are attributable to working at the swap meet, a Southern California staple for working class people in Santa Fe Springs, a city in southeast Los Angeles County . 
He started working at a young age, helping his uncle sell women's jeans at his swap meet post. His role was that of a barker, yelling after customers, as is common in swap meets, about one's offerings. In this setting, Sandoval had a chance to sharpen his comedy, yelling at customers at opportune moments to surprise them for his own entertainment. 
Sandoval worked a variety of our jobs. The work at some places was described as backbreaking.This is what he did from high school until just under a year ago. 
He worked at a funeral home most recently. However, he had to stop working because his mother Lucia Sandoval was considered high-risk while undergoing chemotherapy during the shutdown related to the pandemic. That job ended during the pandemic after the funeral home director asked him to get clothes from someone that died of Covid. Rather than accept that task and expose loved ones to illness, Sandoval  quit working there. 
Dove Guy in mourning
Sandoval's mom died of ovarian cancer on July 20. In her honor, he  composed a poem and read it in a corrido style. It's a beautiful and descriptive poem of his mother and her guidance. Of course, it's also reflective of the talent that Sandoval possesses. 
Lucia was able to see some of Steven's new-found Instagram fame. She reminded him to stay humble and to keep his feet on the ground. 
She was worried when he was recognized by someone driving, and that person came to an abrupt stop near the family home. There's generally concern when that occurs in East Los Angeles. 
The people in the car started yelling at Steven, but they weren't there to give him a hard time. Rather, it was some folks who wanted to take a photo of the "Dove Guy" in the wild. 
Sandoval is more popular now. He says there are definitely more people trying to talk to him now that he has attained a level of fame. He's not down on the concept of fame.  Yet he questions his own commitment to social media, considering he eliminated social media from his life right after high school. 
Thus, whether Sandoval continues on with social media remains to be seen. 
"I have to convince myself at times to not delete the account," he said. "I like to entertain people, and I don't do it for likes. I do this because people say they feel down and that this video gave them smiles."
He is known for the videos, but there's more to him than that. 
Dove Guy Real Estate?
"My dream was to work in real estate and work as an agent," he said. "I like being flexible. But I'm happy- things are happening that I didn't necessarily dream of. It's nice"
Sandoval has more than a passing interest in the real estate industry. He talked at length about how he educates himself with financial and real estate matters on YouTube. The Dove Guy loved the stock market stimulation that he was involved with in a high school economics class.
This was an interest that went to the backburner during the pandemic and his mom's illness. He hopes to re-acquaint himself with those interests.  
"People my age want the best clothes and cars and things," he said. "But it's not on my agenda. I don't need $300 sneakers."
His goals are more pragmatic. He wants to help another older sister, Petra,  take care of Nancy. He wants to buy a home. 
But really he wants to make others feel happy when they see his videos. He wants you to know about him and his birds, but he wants to bring a smile to your face. And he does. 
This is one dope ass foo'. 
Get the Our Esquina Email Newsletter
By submitting your email, you are agreeing to receive additional communications and exclusive content from Our Esquina. You can unsubscribe at any time.