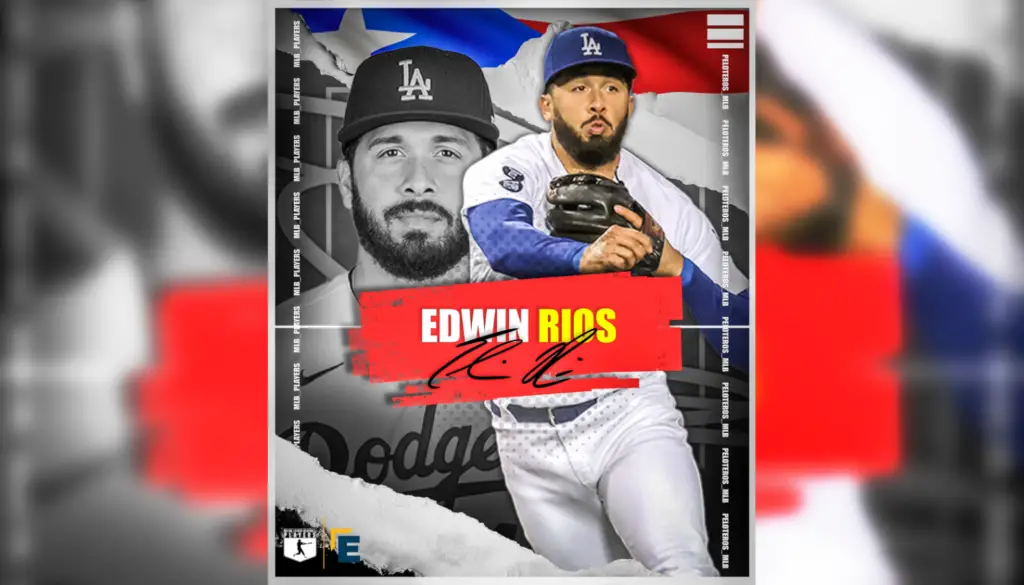 Dodgers infielder Edwin Ríos represents Puerto Rico
Edwin Ríos hopes to follow in the footsteps of Puerto Rican ledgends like Roberto Clemente.
Los Angeles Dodgers infielder Edwin Ríos left Puerto Rico with his family when he was just five years old. They settled in Kissimmee, Fla., where their community created a miniature Isla del Encanto; a home away from home.
"The culture, the music, the people, the island, it's something special," Ríos said. "When you're raised boricua, you carry it in your heart. I wouldn't change it for the world."
Like many Caribbean countries, Puerto Rico regards baseball as its national pastime. Hall of Famers Roberto Clemente, Roberto Alomar, Iván Rodríguez, Orlando Cepeda and Edgar Martinez are among dozens of stars who hailed from the island.
"Baseball is everything to us," Rios said. "There are so many players that have come from there. And when you watch them and see what they have done and continue to do, it motivates you."
Watching those players, Ríos was determined to be like them. With help from his parents, who drove him to and from practice every day after work, he eventually garnered enough attention from scouts to see that a big league dream was becoming a reality.
In 2015, the Dodgers drafted Ríos in the sixth round out of Florida International University. From there, it took him less than five years to get the call to The Show.
Waiting for the call
After playing rookie league ball in 2015, Ríos progressed quickly through the Dodgers' farm system. It took him two years to reach Class AAA, where he spent the next three years waiting to set foot in Dodger Stadium.
"Those three years were weird for me," he said. "I was blessed to be there and I had great moments, but those three years made me feel like I was trapped."
Ríos was playing in the Pacific Coast League for the Oklahoma City Dodgers. A deep major league lineup was mucking up the works for the lefty from Caguas.
It was only a matter of time before he got the call, and in 2019 the moment finally arrived.
"When I finally broke through in 2019, I was like, 'Wow, I made it,'" he said. "Those three years were difficult, but they helped me tremendously. Everything happens for a reason."
All of the sacrifices Ríos and his family made were finally paying off. It wouldn't have been possible if not for hard work and discipline.
"There will be moments when you fall, but you have to get back up and keep working hard. Keep pushing," Ríos said. "This isn't an easy career. But if you work hard and do everything you possibly can, you won't regret it."
Get the Our Esquina Email Newsletter
By submitting your email, you are agreeing to receive additional communications and exclusive content from Our Esquina. You can unsubscribe at any time.