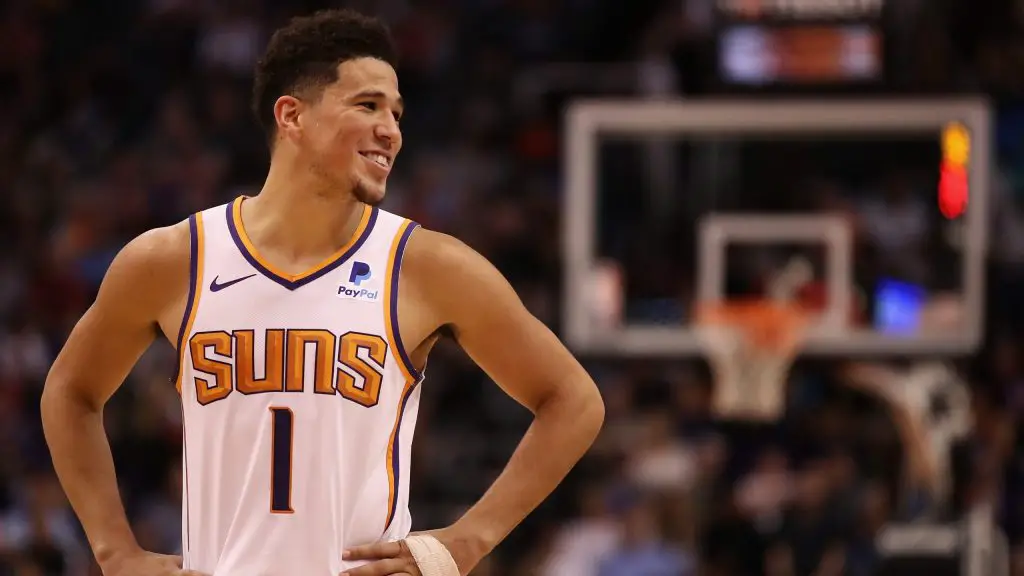 Devin Booker snubbed; Spring Training highlights
Welcome to Que Onda, the all you need to know about Latino sports and culture today.
Devin Booker snubbed 
The 2021 NBA All-Star Game reserves were announced Tuesday. To the surprise of many, Phoenix Suns guard Devin Booker was not among those named to the Western Conference squad.
Booker, who is part Mexican and Puerto Rican, is averaging 24.7 points per game to go along with 3.8 rebounds and 4.3 assists through 26 games. He's worthy of an All-Star Game nod.
When news broke of the reserve nominations, many NBA players, including LeBron James, were quick to criticize his lack of inclusion. 
Now there is hope that Booker could end up at the All-Star game after all. Los Angeles Lakers forward Anthony Davis was named to the reserve squad, but he is currently out for the foreseeable future with a calf strain. He's not expected back in the Lakers lineup before the All-Star break. He could very well skip the game in favor of extended rest. 
This would, in turn, open a reserve spot for a Western Conference player, which could allow Booker to make his second straight All-Star Game appearance after replacing Damian Lillard in last year's festivities. 
In the meantime, enjoy some Booker highlights:
Spring Training Sights and Sounds
Spring Training is underway, and all your favorite peloteros are hard at work getting ready for the 2021 season. 
With a full 162-game season planned, there's a lot of work to be done. 
Here are some of the sights and sounds from around the league we think you might enjoy:
Dodgers Spanish Booth Set
The Dodgers are returning a familiar set of vocal chords to the booth this season when iconic lefty Fernando Valenzuela, Pepe Yñiguez and Hall of Famer Jaime Jarrín begin calling games for the defending World Series champions.
SportsNet Los Angeles will carry more than 150 games in Spanish with Valenzuela acting as the analyst and Yñiguez and Jarrín sharing play-by-play duties. 
When the Dodgers open the season on April 1 against the Rockies, it will be Jarrín's 63rd season in the booth. 
Like many Angelenos, we're excited to hear Don Jaime for another season. 
Don't Unplug The Machine Just Yet
Late Monday news broke that Albert Pujols will be retiring at the end of the 2021 season. Already we had mentioned the possibility of The Machine hanging up his cleats, but it appeared that it would truly be the case when his wife, Deidre, posted on Instagram about his final season. 
But don't go framing your St. Louis Cardinals jersey just yet. Shortly after thousands in the baseball world began posting tributes to Pujols on social media, Deidre clarified her Instagram post, noting that it was Albert's first day of his last season based on his contract which is set to expire at season's end.
Regardless of the social media snafu, 2021 could still very well be the end of Albert Pujols' career. The 41-year-old will be a free agent. With nearly every major statistical milestone achieved or broken, there isn't much left for Pujols to do in baseball. 
Should 2021 truly be the end, it will mark the final chapter in one of the greatest careers ever by not only a Latino, but any ballplayer in history. 
En Social
Miami Marlins shortstop Miguel Rojas is bringing the heat to Spring Training. 
The 32-year-old was photographed showing off reggaeton artist J. Balvin's Air Jordan 1 sneaker ahead of full squad workouts.
Balvin's Air Jordan 1 sneaker was first revealed in February of 2020 during the Super Bowl halftime show. It instantaneously sold out when it was released in December.  
The colorful sneaker features a tie-dye canvas along with exposed leather patches to go along with an exposed tongue. Balvin's signature logo is on full display alongside the iconic Air Jordan jumpman. 
Balvin became the first Latino artist to collaborate with Jordan brand. 
Now the question is will Rojas convert his kicks into cleats come the start of the season? 
Reliever Archie Bradley previously rocked a pair of cleats customized to look like Balvin's signature shoe in 2020. 
Could Rojas pull off the real deal or will he not risk creasing his kicks?
Our Gente
After getting swept by the Marlins in the postseason, the Chicago Cubs are looking to reassert their dominance in 2021. 
Returning much of their core along with some new additions and familiar faces, the Cubs are looking to show why the 2016 World Series is no fluke.
Marquee Sports Network's Social Media Coordinator and Cubs Contributor Andy Martínez broke down all the Spring Training storylines Cubs fans need to follow ahead of Opening Day.
Give it a watch:
Get the Our Esquina Email Newsletter
By submitting your email, you are agreeing to receive additional communications and exclusive content from Our Esquina. You can unsubscribe at any time.