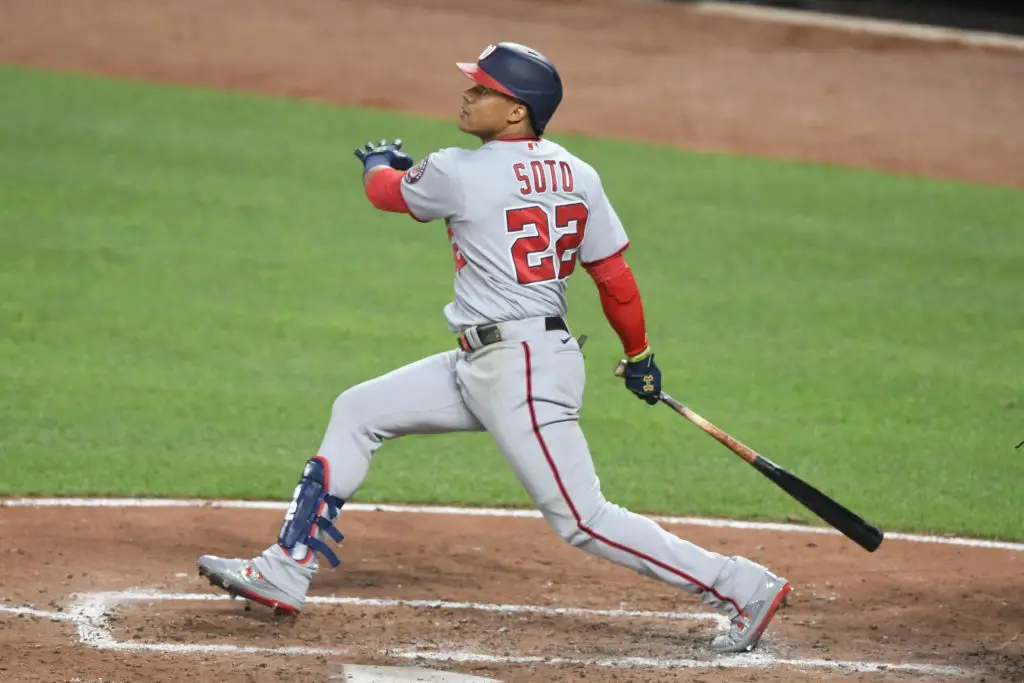 Confidence, not Home Run Derby fixed Juan Soto's swing
Washington Nationals slugger Juan Soto appears to have "fixed" his swing. But, how?
For Washington Nationals slugger Juan Soto, the first half of the 2021 MLB season needed some "fixing." Known for his plate discipline and power, the 22-year-old from Santo Domingo, Dominican Republic, was hitting far too many ground balls for his liking.
Statistically, he was right. Prior to the All-Star break, Soto featured a ground ball rate of 55%. That's an increase of over six percent for his career. What's more, it resulted in 13 double plays, already a career-high for him.
The answer to this problem, at least for Soto, was to participate in the Home Run Derby.
As it turns out, since participating in the popular All-Star event, Soto's swing has been better. His groundball rate has dropped a tick and his barrel rate has almost doubled from 10.8% to 20%, and it shows in his stat sheet.
Pre All-Star break: .283 AVG, .407 OBP, .445 SLG
Post All-Star break: .361 AVG, .511 OBP, .917 SLG
So, did the Home Run Derby fix Soto's swing?
"I think so, yeah," he told Our Esquina. "I've been feeling great after the Home Run Derby and everything."
For Juan Soto, Confidence is Key
If there's anything to be learned from Soto's career thus far, it's that he does not lack confidence. The Home Run Derby didn't fix his swing. His determination, poise, and tenacity did.
"Every time I'm at the plate, no matter who's throwing," he said, "I'm going to believe in myself. I'm going to bet on me."
We have all seen it in the past. What makes anyone think that this time is different?
Look back at his performance in the 2019 World Series against the Houston Astros. 
That's the postseason we all became familiar with what is now known as the Soto-Shuffle. Initially received with uncertainty, it's become a what-to-watch-for when the Nationals are in town.
"Just taking pitches I feel so excited," he said. "I think that's one of the ways to get myself pumped up and ready to go."
That same series, in an elimination game against soon-to-be two-time Cy Young Award winner Justin Verlander on the mound, Soto delivered a go-ahead solo home run in a game his team would wind up winning. Lost in there was that he carried his bat all the way to first base, a response to Alex Bregman, who had done the same in the first inning.
No! The Home Run Derby did not fix Soto's swing. His confidence did.
Get the Our Esquina Email Newsletter
By submitting your email, you are agreeing to receive additional communications and exclusive content from Our Esquina. You can unsubscribe at any time.