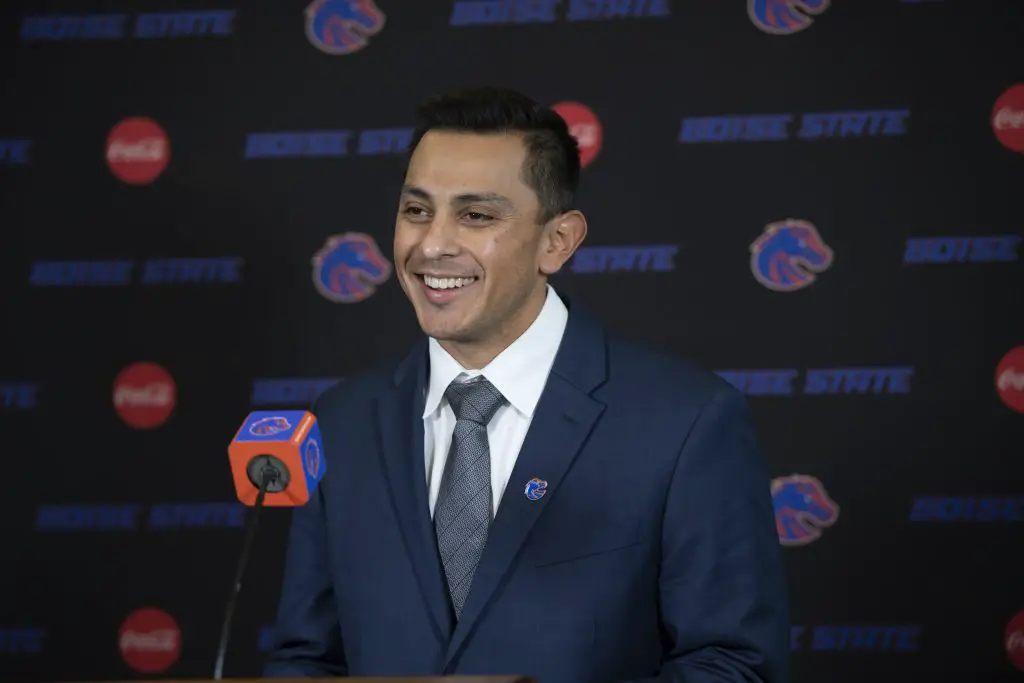 Andy Avalos to represent Latino heritage with class, integrity as Boise State coach
Andy Avalos returns to Boise State, joins small list of Latino Division I football coaches.
After just two seasons away from his alma mater Boise State, Andy Avalos is heading home to the university where it all started. 
Avalos, 39, was officially named the 11th head coach in Boise State history on Saturday after previously spending two seasons as the defensive coordinator at Oregon where he coached under Cuban-American Mario Cristobal.
"It is a humbling, humbling opportunity to be able to come back home to this university, to the brotherhood that we belong to and to this community," Avalos said. "We are excited to represent you guys with class and integrity." 
He is just the second graduate of BSU to be named head coach. Avalos also joins a rare group of Latino Division-I college football head coaches. Cristobal, Avalos, Miami's Manny Diaz, Baylor's Dave Aranda, New Mexico's Danny Gonzales and UNLV's Marcus Arroyo are the Latino football coaches in Division-I. 
The list is small, but it has grown longer recently.
"It comes with a great honor, it comes with an unbelievable honor," Avalos said in part when asked about joining such a small list. "I intend to represent this university with class and integrity as well as my family, my heritage and all of my friends."
Avalos brings defensive acumen
At Oregon, Avalos'  hard-hitting defensive schemes helped lead the Ducks to back-to-back Pac-12 conference championships and New Year's Six FBS bowl games. 
Avalos was recruited to Oregon by Cristobal after helping turn around the Broncos' defense, including top rankings in sacks and forced turnovers. He also helped numerous athletes earn Mountain West honors across his several years with the program (2012-2018).
In his final three seasons as an assistant at Boise State he was the defensive coordinator. Now, Avalos will take over a team that finished 5-2 in a shortened 2020 campaign with a losing appearance in the MWC title game against San Jose State.
"The ceiling is very high," Avalos said. "Where we set our vision and where we set our goals, we have the opportunity to do unbelievable things here. We have the opportunity to be in an elite group of college football, and we've been there before. 
"Is it going to take tremendous hard work to consistently be within that group? Yes. And that's why you come to a place like Boise State; To be able to assemble, build [and] grow a group of men within an athletic department at a university to work to achieve those things."
The native of California began his playing career at Corona High, where he quickly developed into a high-caliber football player. 
Andy Avalos led as player too
Avalos became a team captain and all-conference linebacker during his playing career at Boise State from 2000-2004.
He finished his career ranked fourth all-time in tackles with 355. In 2016, he was named to the All-Blue team, a list featuring BSU's top 30 players since the school installed its famous blue turf field in 1986. 
"You're not going to find someone who fits our mission better," athletic director Jermiach Dickey said. "We talk about bleeding blue. He was part of defining that for us as a player and as a coach. He exudes the blue-collar mentality of this program." 
Building a winning program
Avalos is hard at work in delivering a winning program at BSU. He named Tim Plough and Spencer Danielson as offensive and defensive coordinators, respectively, while also bringing Reid Kagy to head its strength and conditioning program.
Avalos was part of the coaching staff the last time the Broncos played in a New Year's Six Bowl, beating Arizona 38-30 in the 2014 Fiesta Bowl. Now he looks to lead the Broncos back into the national spotlight after four straight conference championship appearances.
"He has a defined vision," Dickey says. "He knows where we're going; and yes we're going to win championships."
More than anything, Avalos hopes to utilize the lessons learned from his years as an assistant as he forges his path at the helm of a national program while also upholding BSU's own values.
"Culture isn't one thing. It's everything," Avalos said. "It's how we live. It's who we are. … You will know what [the] culture is by the habits, and how people treat each other within a setting. 
"How people work to help each other, help each other grow, help each other compete, compete with each other. That's what's important to us."
Get the Our Esquina Email Newsletter
By submitting your email, you are agreeing to receive additional communications and exclusive content from Our Esquina. You can unsubscribe at any time.