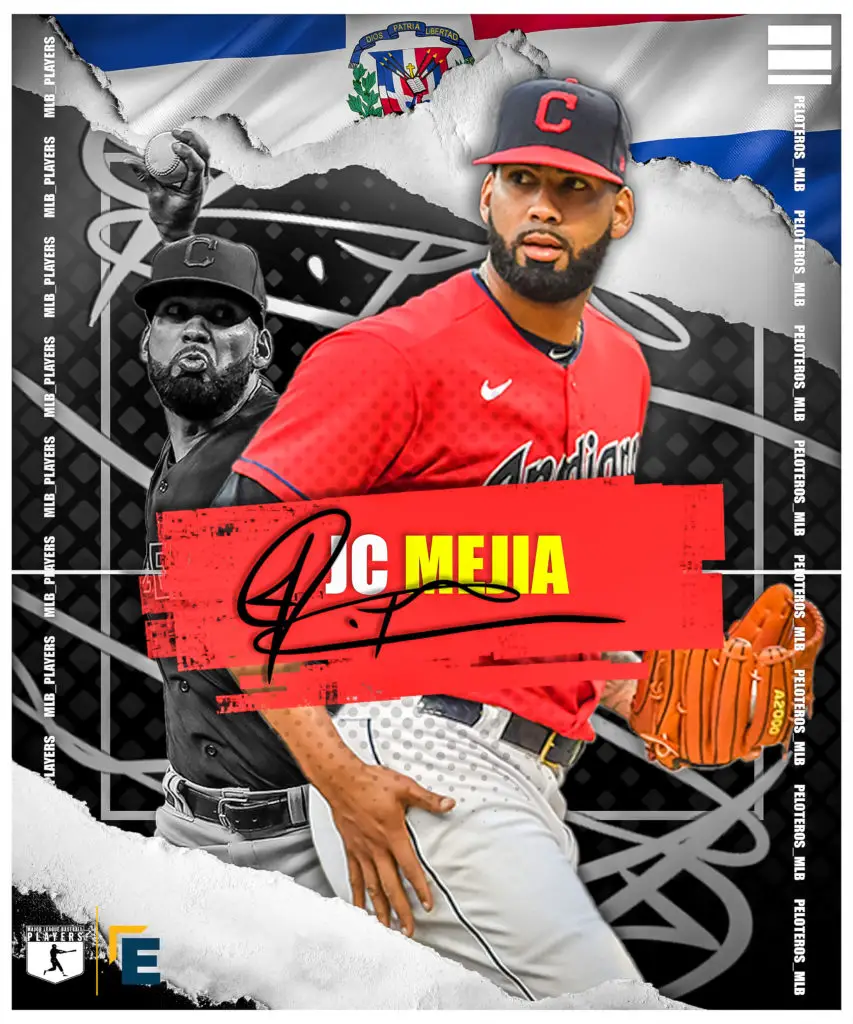 Cleveland's J.C. Mejia represents Dominican Republic
Indians pitcher J.C. Mejia discusses the amiability of the Dominican people.
Baseball, to borrow a catchphrase from the hit series Ted Lasso, is life in the Dominican Republic. So much so that even when a glove, a bat, and a ball aren't available, you play the next best thing: Vitilla. A version of baseball, vitilla is played with a folded up piece of cardboard or your bare hands as a glove, a bottle cap as a "ball," a broom stick as a bat, and the streets as a ballfield.
Pelota, as it is referred to in Quisqueya, is a way of life. To play professionally is every child's dream-come-true.
"I would say that we are very passionate about baseball," Cleveland Indians pitcher J.C. Mejia said. "Because It's the sport we most see in our country."
How could Dominicans not be passionate about baseball? Some of the greatest players hail from the DR. Hall of Famers Juan Marichal, Pedro Martinez, Vladimir Guerrero, and even folk heroes like Manny Mota are all great examples of players who come from the Dominican.
Mejia, who idolized pitchers like Bartolo Colon, was born in the coastal town of Gaspar Hernandez. Colon, the cult figure who was born and raised about one hour west in a popular tourist destination called Puerto Plata, served as the perfect example of a Dominican kid like Mejia.
Both players looked beyond the palm trees and white-sand beaches in their backyards and toward the baseball diamond. They bypassed their community's main source of income in tourism, and looked to take la lomita – the mound – in search of a World Series trophy.
The Dominican Way
As it stands today, the Dominican Republic is a developing country in Latin America. Much of its population lives in poverty. 
In fact, though it has one of the largest economies in Latin America, the average yearly household income was just around $7,000 US Dollars in 2020, according to Statista. Yet, its people have a reputation around the world for being generous and joyful.
"One of the things that I most love about my country," J.C. Mejia said, "is the amiable people and how they treat people from other countries who want to know about my culture."
The same exists among Dominicanos playing baseball. Mejia, who is a rookie, took some time to become acclimated to American culture and the language on and off the field. Fortunately, Jose Ramirez and Franmil Reyes, two veteran Dominican players, took him under their wings. They helped make the adjustments more palatable for him.
"Since I came to the big leagues they have treated me like I have always been here," he said "It is beautiful that they give me their support."
That's just the Dominican way, and Mejia illustrates it beautifully.
"No matter how poor you may be," he said. "If you need food and ask a neighbor for some, they will give you a plate of food."
Today, J.C. Mejia is doing his part to pay it forward. Being that he is a rookie, he vividly remembers thinking he was going to be cut after spending three years in the Dominican Summer League. But one day, it clicked, and here he is on the world's biggest stage.
"I would say, from my heart, never stop fighting, never stop trying," he says when asked what advice he would give young Dominican players. "Always give your best. If God gave you a purpose and your purpose is to play in the big leagues, many times it pans out."
Get the Our Esquina Email Newsletter
By submitting your email, you are agreeing to receive additional communications and exclusive content from Our Esquina. You can unsubscribe at any time.