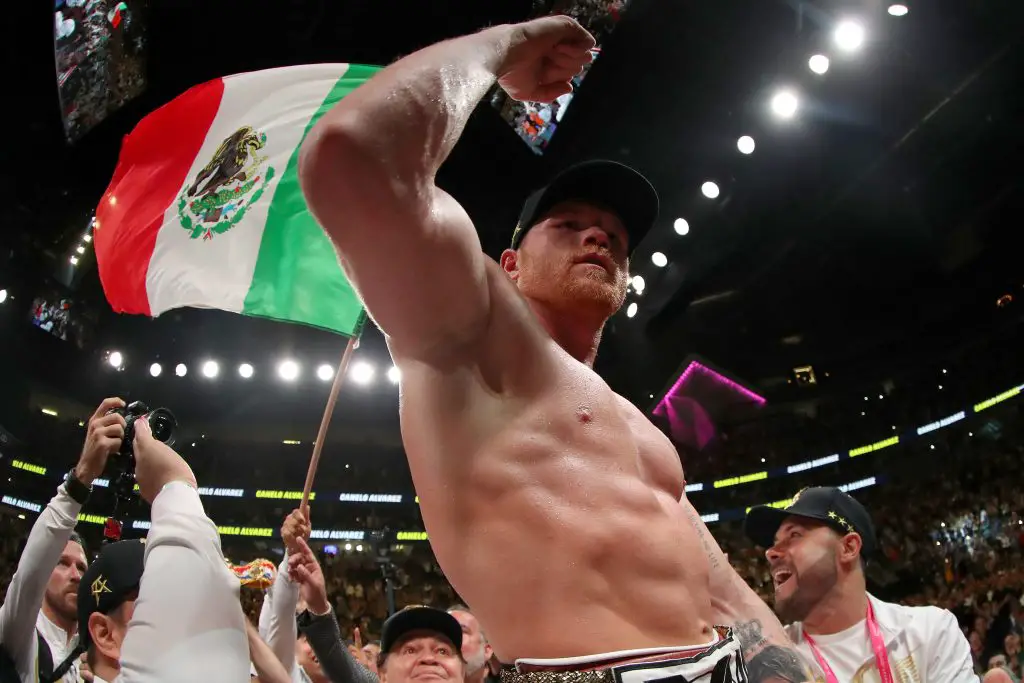 Canelo ready for Yildirim; Lindor drops heat
Welcome to Que Onda, the all you need to know about Latino sports and culture today.
Canelo vs. Yildirim: What you need to know
Mexican icon and the top pound-for-pound boxer in the world Saúl "Canelo" Álvarez will defend his WBC super middleweight title against Turkey's Avni Yildirim on Saturday at the Hard Rock Stadium in Miami.
Saturday's fight comes a little over two months after Canelo unified the WBC and WBA titles in December by beating Callum Smith via unanimous decision. 
Now, Canelo will defend his titles in a mandatory fight against the WBC No. 1 contender in Yildirim. 
Still, while the fight is happening on shorter notice, Canelo stands as a heavy favorite for a variety of reasons. First, being the top pound-for-pound boxer in the world affords you some favoritism. Of course, Canelo has been able to back it up in the ring without issue. 
But beyond that, Yildirim hasn't fought in two years. His last fight was in February of 2019, a loss to Anthony Dirrell via technical decision. 
So why is Canelo fighting the man nicknamed, "Mr. Robot?" As mentioned above, Canelo owns the WBC and WBA titles. In order to keep the WBC title, he must defend it against a mandatory challenger, which happens to be Yildirim.
The fight is part of Canelo's larger goal to become the undisputed super middleweight champion. Already, he's agreed to a fight with WBO champion Billy Joe Saunders with a plan to fight in May. The fight would be a title unification bout, but in order to get there, he must go through Yildirim first. 
Boxing and its complicated rules can often be confusing, but we hope this clears things up ahead of Saturday's showdown. 
All-Star Game Redeemed
On Wednesday, we wrote about Phoenix Suns' guard Devin Booker's snub after he was not named to the Western Conference NBA All Star Game reserves squad. 
A few days later and all is right in the world after Booker was announced to replace the injured Anthony Davis in the mid-season festivities. 
This will be Booker's second consecutive All-Star Game nomination, a welcomed feat for the part Latino star. 
Lindor and New Balance set to drop heat 
For years, Francisco Lindor has been one of baseball's swaggiest superstars. From his Oakley sunglasses and New Balance apparel down to his colored hair and signature smile, Lindor is as flashy on the diamond as he is skilled.
Now, Lindor will marry the two in a brand new collection with New Balance featuring a signature shoe dubbed the "Lindor 1."
Releasing on March 1 online, Lindor in partnership with sports and lifestyle brand New Balance, will release two pairs of shoes, a cleat and a lifestyle shoe, along with a matching headband and hoodie.
The cleat, which will set peloteros back $129.99, comes in two colorways, while the lifestyle sneaker will come in three and run at $109.99. All colorways will feature the same floral pattern printed on the top inspired by the Flor de Maga, Puerto Rico's national flower. Per New Balance, the shoes will feature a detachable ankle strap allowing them to be worn as a low or mid-top, a first for the company, and a personal request by Mr. Smile himself.
Similarly, the headband will also feature the same floral print. A hoodie will also release emblazoned with the slogan "Be Consistent" on the back, a mantra of Lindor's along with floral prints on the sleeve.
The release follows other professional baseball players to have released cleats in the past, including Bryce Harper, Mike Trout and Ken Griffey Jr.
Lindor's release continues what has been an exciting start to 2021. A new member of the New York Mets, Lindor is primed to make another playoff run while also due for a mega-contract on or before season's end. 
Will you be adding these kicks to your personal collection?
Verdugo: "I Think This Is Where I Was Supposed To Be"
When Alex Verdugo was traded to the Boston Red Sox as part of a package deal for 2018 AL MVP Mookie Betts, Los Angeles Dodgers fans were as sad as they were elated.
The Mexican outfielder had quickly endeared himself to the Dodgers' legion of Latino fans with his energetic play and love for his culture. 
As things often go in trades like this, Verdugo saw himself go from a World Series favorite to a team looking to rebuild, in part, after a World Series win. And as it would turn out, the Dodgers, with the help of Betts, would finally win the World Series in 2020. 
Now a year post-trade, Verdugo is not entirely upset about watching his former team win it all. While he did call seeing the Dodgers win "bittersweet," Verdugo was quick to point out the positive side of it all. 
Speaking to reporters he said, "I think things work out for reasons. Coming over here and being with Boston and being with the staff and [my] teammates, how I feel like I get along and I jell with the guys, I think the fit here is better. I think this is where I was supposed to be."
In one season with Boston, Verdugo slashed .308/.367/.478 in 53 games with six homers on 62 hits to go along with 15 RBI and some stellar defensive plays.
With Boston, Verdugo found consistent playing time and a place to grow as a player, something he lacked in Los Angeles as he was often blocked and had the unfortunate circumstance of being a lefty in a predominantly lefty lineup.
Reunited with former teammate Kike Hernández, Verdugo helps round out a team that could potentially challenge for an AL Wild Card spot should all go according to plan in 2021. 
En Social
Gleyber Torres is as serious outside the batter's box as he is inside it. 
Watch as he is unfazed by Gio Urshela's attempt at scaring him during the New York Yankees' full squad workouts happening in Florida.
Torres, a former top prospect acquired in the trade that sent reliever Aroldis Chapman to the Chicago Cubs in 2016, exploded onto the baseball scene in 2018. A two-time All-Star, Torres struggled at the plate and at short in 2020 due to injury, but immediately redeemed himself in the postseason.
With the coveted shortstop position his to lose, Torres is looking to have a bounce back season on both sides of the ball.
Meanwhile, Gio Urshela is looking to continue his stellar play at the hot corner that nearly earned him a Gold Glove in 2020. He was acquired for cash from the Toronto Blue Jays and later came in to fill in after various injuries, but quickly found a place in the Yankees lineup, even usurping the 2018 AL Rookie of the Year runner-up, Miguel Andújar for the starting role. 
Together, the two make for one of the most dangerous left sides of an infield in MLB. 
En Historia
On Monday, we celebrate the life of Saturnino Orestes Armas Mińoso, better known as Minnie Miñoso.
Miñoso died on March 1, 2015, at the age of 89 years old. He joined MLB in 1949, two years after Jackie Robinson broke the color barrier. Prior to joining Cleveland, Miñoso spent three seasons in the Negro Leagues as a member of the New York Cubans.
The man nicknamed the "Cuban Comet" would become the first black Cuban in MLB in 1949 and the White Sox's first black player in 1951. He played 17 years, compiling a .298/.389/.459 slash line to go with 1,963 hits, 1,023 RBI and 186 home runs.
Miñoso also had nine All-Star Game nominations, 11, if you count the now recognized Negro Leagues and three Gold Gloves.
Despite a lengthy, barrier-breaking career, Miñoso never came close to being enshrined in the Cooperstown National Baseball Hall of Fame. He appeared on the ballot 15 times and finished with no higher than 21.1 percent of ballots.
Now that the Negro Leagues are officially recognized as "Major League," Miñoso's case is a lot more compelling once you factor in his previous accolades.
We won't inundate you with the how and why of his Hall of Fame candidacy. Instead, we want to take the time to celebrate a beloved Latino superstar.
At the age of 50, Miñoso recorded his final hit, becoming one of the oldest players to ever do so.
He's also had a hit in four different decades: 1940s, 50s, 60s and 70s, and could've potentially made it five, too, but appeared in two games in the 80s, allowing him to play in five decades.
Miñoso was truly a special player. Here's to you, Mr. Minnie Miñoso.
Our Gente
Continuing with the Yankees love, Aaron Judge is without a doubt the definitive face of the Bronx Bombers. But since setting the world on fire in 2017 with a monstrous Rookie of the Year campaign, the larger-than-life athlete has spent considerable time off the field due to myriad injuries.
Tired of sitting on the sidelines, Judge has dropped the weights in favor of flexibility, hoping the change will keep him on the field longer and, hopefully, bring back a World Series title to New York.
Bob Klapisch has all the details in a new piece for The Star-Ledger. Give it a read:
Get the Our Esquina Email Newsletter
By submitting your email, you are agreeing to receive additional communications and exclusive content from Our Esquina. You can unsubscribe at any time.