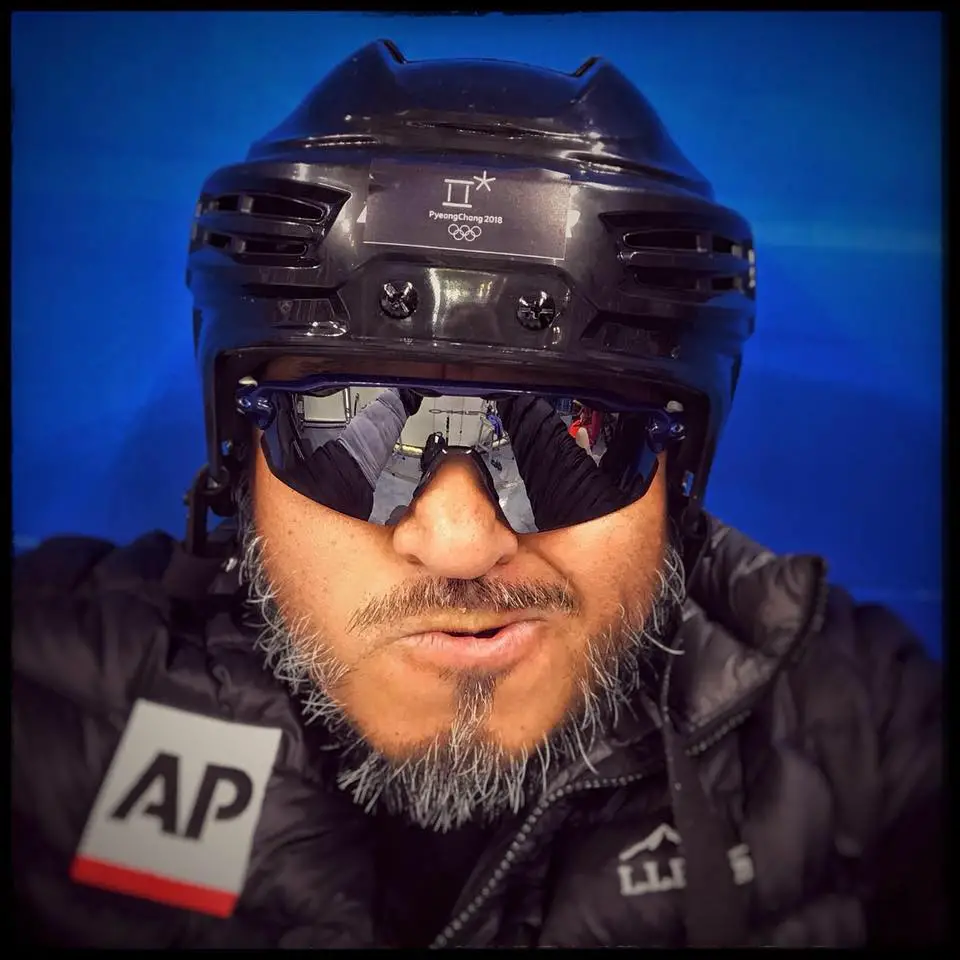 Julio Cortez Captures History With Latino Flair
With his trusty camera in hand, AP Photographer Julio Cortez has traveled throughout the U.S. and beyond capturing history.
Growing up in San Fernando with the backdrop of Los Angeles, Julio Cortez always knew he wanted to work in sports. When playing in the major leagues became a far fetched goal, Cortez dreamed of following in the footsteps of his sports idols, Univision sportscaster Mario Solis and Dodgers Spanish language radio broadcaster Jaime Jarrin.
Cortez did everything he could to make that dream a reality. That was until Sept. 11, 2001. 
At the time, Cortez was working as a part-time stringer for the L.A. Daily News' sports department while he attended L.A. Pierce College.
"That morning I went to school, I had a political science class, and I remember telling my brother, 'Wow, political science is going to be really interesting today,'" Cortez recalled. 
Cortez made it through only one class that day before leaving for his job. It was only around 9 a.m., but he went to the newspaper. He knew help would be needed to put out a special edition.
On his way to his desk at the sports department, he went through the photo department. That's when he noticed many paper printouts of wire photos shot that morning in New York. 
Cortez quickly found himself combing through the photos that brought to life that fateful day in New York when terrorists struck the World Trade Center. It's there that he realized he had a different, more profound calling in life. 
"I just remember thinking, 'This is instant history,'" Cortez added. "Like [these are] the images that you're going to be seeing in the history books for the rest of time. So that day I decided, forget writing, I'm going to be a photographer. 
Capturing history every day 
Cortez now works as a photographer for the Associated Press, based in Baltimore. Prior to joining the AP 10 years ago, Cortez served in a variety of roles for publications after he graduated from Cal State University-Northridge in 2006 with a degree in Journalism and Chicano Studies. 
Cortez has covered it all, from World Cups to Sandy Hook and baseball playoffs and inauguration ceremonies in-between.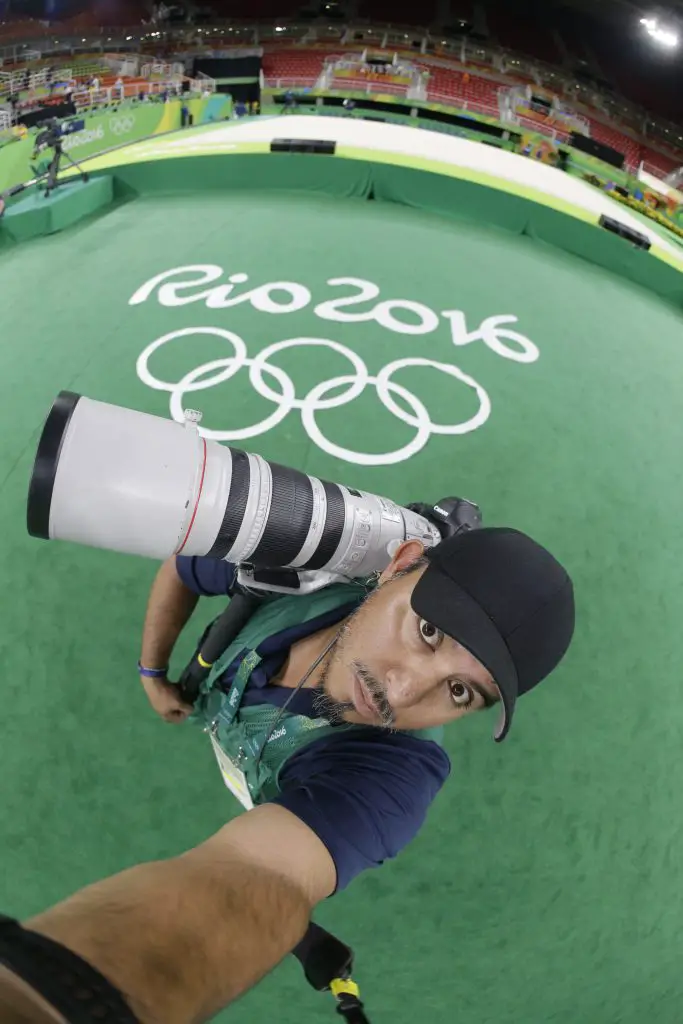 "One of the things I really feel honored to be able to experience with this job is I meet people on either the best day of their lives or their worst day of their lives," he said. "Very rarely do I ever work and meet people that are having an average day. If they're having an average day, then I'm not in the right spot."
His exploits have taken him around the globe and throughout the United States. With his trusty camera by his side and an eye for finding the perfect shot, Cortez has documented history on the frontlines, capturing photos that will stand the test of time.
Recently, Cortez photographed the insurrection at the U.S. Capitol building in Washington, D.C. His GoPro video showcasing his partner being attacked by insurrectionists made headlines as an up-close look at what is being labeled a domestic terrorist attack.
"I've been doing this for a long time, actually, where I put a GoPro on my helmet," he said. "And the reason I do that is mostly just as a visual reference for myself, just to kind of look back and see how things went down and how could I do something better. Another reason is just for safety."
He has been attacked six times throughout his career. The GoPro serves as evidence for what he describes as "very fluid situations."
Both he and his partner made it out after two people helped remove them from the fray. But because of how fluid the situation was, Cortez gave himself only a few moments from the initial attack before heading back into the fold to cover the insurrection. 
"That was obviously one of the hardest moments to kind of shake it off and get back into it because in other situations if somebody tried to attack you, you leave the scene and you try a different angle and everything's OK," he said.
However, in this instance there was no alternative angle. The only option was to go back in. 
"The problem with a situation where you try to go back in is those voices in the crowd that you normally hear the people saying, 'Here comes the fake news media. Here comes the liars,' all the insults, which we probably heard earlier in the day.
"But at this point, because of what just happened now, I was paying attention to them. So it was a little bit difficult to go back and stay focused." 
Cortez credits the National Guard for helping push back the insurrectionists, which provided a level of safety for him and his fellow reporters, which, in turn, allowed him to regain his focus.
Just days later, Cortez photographed the 59th Presidential Inauguration. He captured a celebratory day in American history just days after capturing one of its darkest. 
He walked around those same streets appreciating how different it all looked. There was still mass security and fencing. But compared to the chaos prior, the feeling was starkly different.
His assignment: To cover the sunrise behind the Capitol. The temperatures were dropping into the 20s and it was windy as Cortez took a lift to get his shot. 
"And so, I didn't really mind any of that, but I was just really thinking about going up and like, 'Wow, this is beautiful compared to what it looked like just two weeks ago.'"
Breaking barriers 
Not all of what Cortez covers is tragic or scary. For every mass shooting or protest, there's been Olympics, baseball games and FIFA World Cups to photograph.
The 2014 FIFA World Cup in Brazil, where he was one of two U.S. photographers from the AP, stands as the most fun event he's covered.
"Usually the way it works at the AP is since our European photographers are constantly shooting top-notch soccer, they get to do most of the [World Cup]," Cortez said. "So to be able to get drafted from the states to partake in the World Cup, it's really special." 
Cortez was given the task of photographing the U.S. Men's national team. Wherever they went, he went. As a soccer fan, the experience was nothing short of a dream come true.
Still, as amazing an experience it is to photograph these events up close, Cortez can't help at times but notice and feel one thing. 
"Honestly, it's really lonely sometimes," he said, "especially when you're working at big events where you might be the only person of color in the photo pit. … You want to be able to look at somebody that kind of looks like you or thinks like you." 
As easy as it would be to focus on the bad, Cortez instead sees the lack of diversity that occurs in photo pits as an opportunity. 
"You have an obligation to really step up because you're representing your cultura," Cortez said. "You're  really representing your people, so you want to do it right. You want people to come back and say, 'Wow that Mexican guy really works hard.'  So I want that to reflect on all Mexicanos."
Mentoring the next generation
One of Cortez's photos was one of the AP's top photos of 2020 and included in CNN's year-end "The year in pictures" honors. 
The photo, taken in Minneapolis during the protests in response to the death of George Floyd, showcases a protester carrying a U.S. flag upside down as he walked past a burning building late at night.
It perfectly encapsulates the year that was 2020, and it almost didn't happen due to the circumstances surrounding the area, but the fact that it did shows the tenacity of Cortez and his eye for the perfect shot.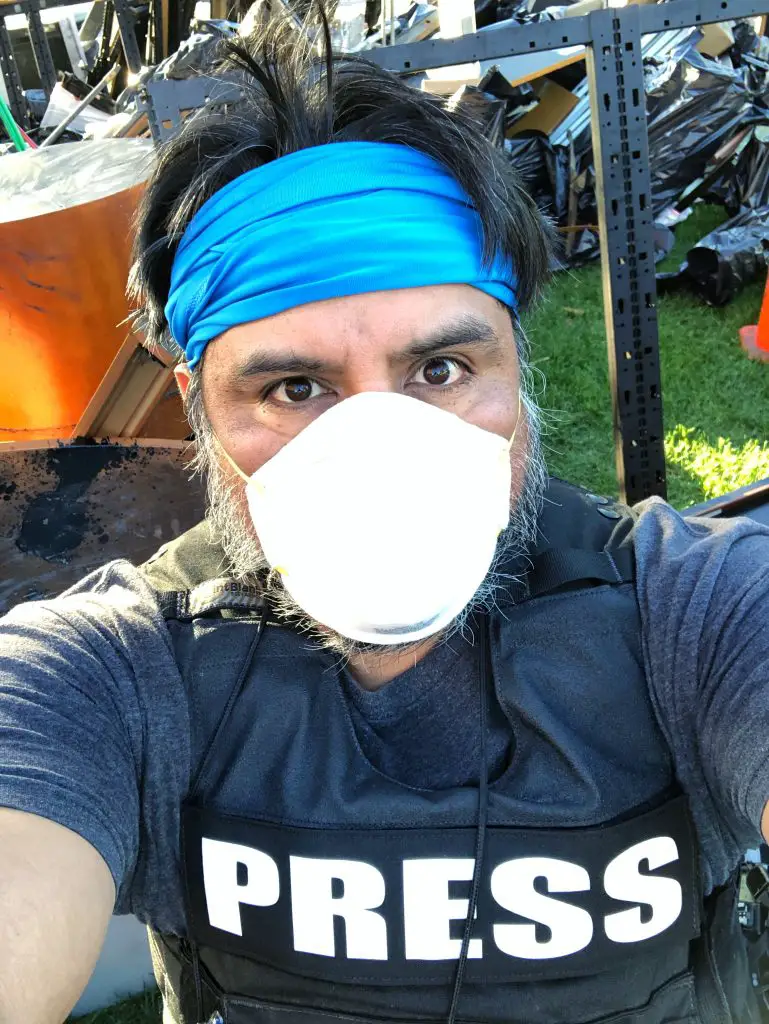 "I know quite a bit of history about the flag and the way it's used for historical pictures or just coverage, that I knew when I saw the flag upside down that it was going to be a very powerful picture."
While the photo will bear the name Julio Cortez/AP for the rest of time, Cortez knows that with each shot he takes it's more than just him. It's his family, in particular his parents who bravely immigrated to the United States with him and his siblings.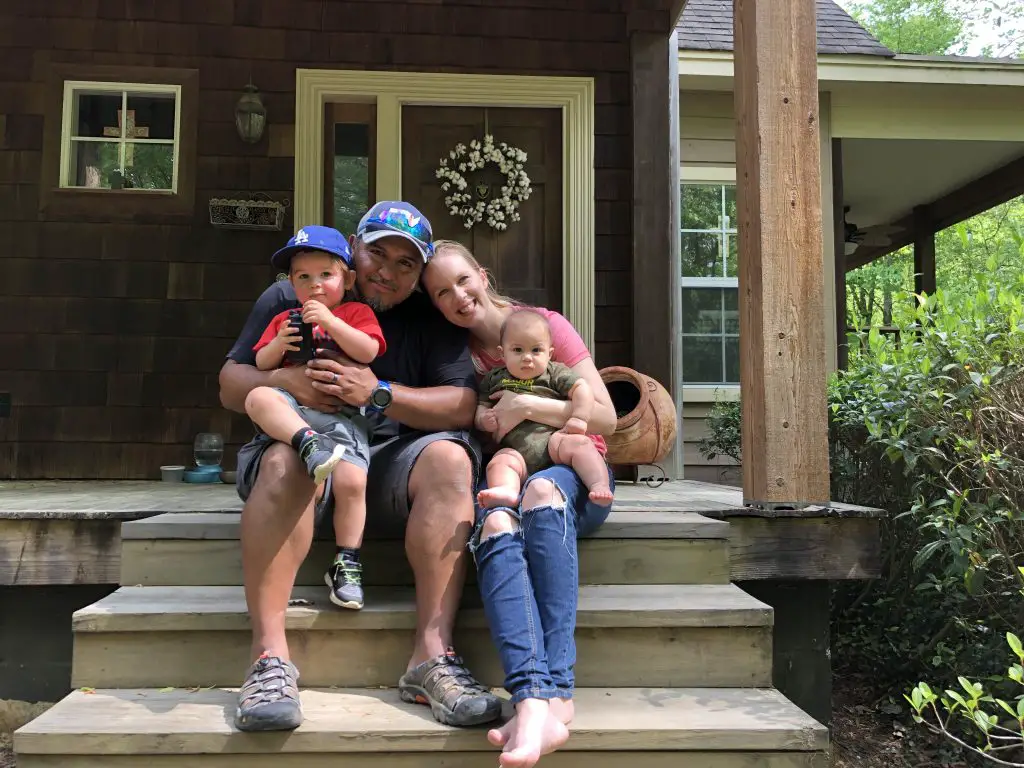 It's his mentors, those he watched from afar and those who took him under his wing. And it's his culture, one that he proudly represents. 
"My parents gave up everything," Cortez said. "They gave up their family, their language and their culture to give me something better."
It's why he works so hard to make every photo better than the last. 
Steve Gonzales, has seen Cortez's growth firsthand. Gonzales was the Director of Photography for the Houston Chronicle when he hired Cortez to one of his first jobs. 
Gonzales first met Cortez at a National Association of Hispanic Journalists conference. He gave him his business card with an offer to meet should Cortez ever be in Houston. Sure enough, Cortez took him up on his offer and would later work under Gonzales. 
"He works very, very hard," Gonzales said. "He's the first guy on the field and the last guy to leave usually. That's what makes him shine among a lot of different other people, and I would say even other Latinos. He's a hard worker."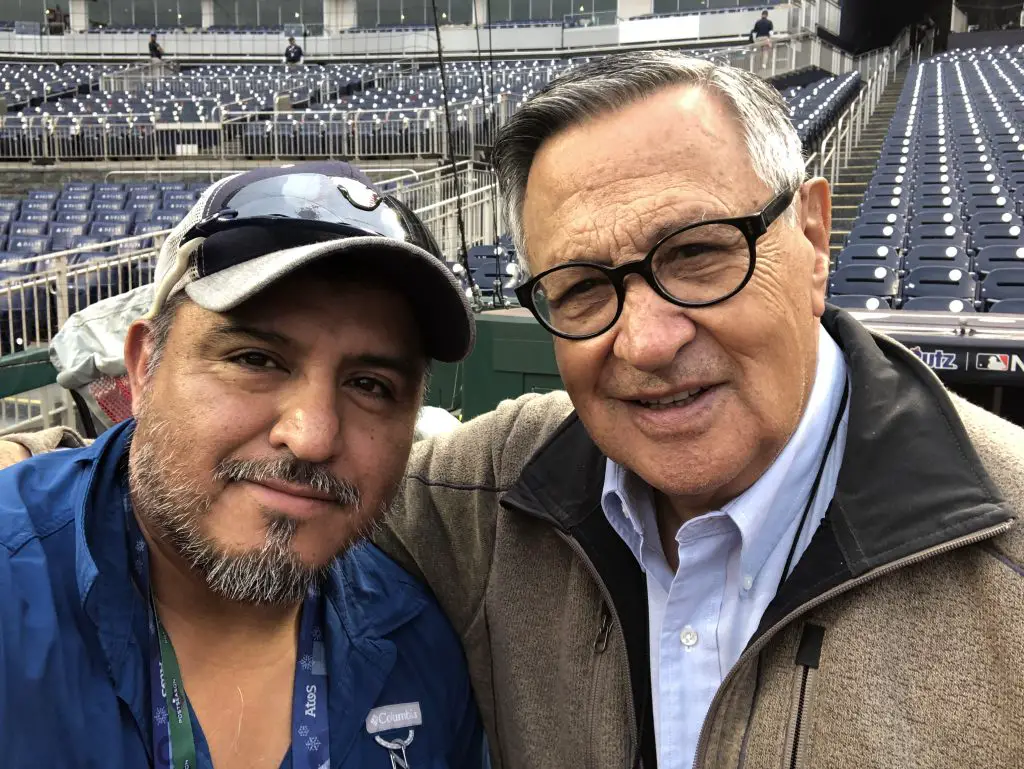 Cortez has never forgotten those who have helped him along the way and keeps in close contact with Gonzales. When Cortez spotted Jarrin in Washington during the Nationals' playoff series against the Dodgers, he made sure to thank him for inspiring him. Something he called, "a full-circle moment."
Now, Cortez wants to help mentor the next generation of Latino photographers and journalists.
"There's a lot of people that we can look up to within our community that are willing to help and are accessible," Cortez said. "I don't consider myself as a trailblazer or anything, but I know that what I'm doing as an AP photographer, there aren't that many Latino AP photographers, let alone Mexican photographers. … I'm not shy about mentoring people or giving them my opinion as far as how can they pursue this dream." 
His biggest piece of advice to young Latinos:  "Honestly, I think it's work really hard and then reach out to those who paved the way for you."
Featured art provided by Julio Cortez. Julio Cortez takes a selfie between hockey games during the PyeongChang 2018 Winter Olympics, Friday, Feb. 23, 2018, in Gangneung, South Korea.
Get the Our Esquina Email Newsletter
By submitting your email, you are agreeing to receive additional communications and exclusive content from Our Esquina. You can unsubscribe at any time.