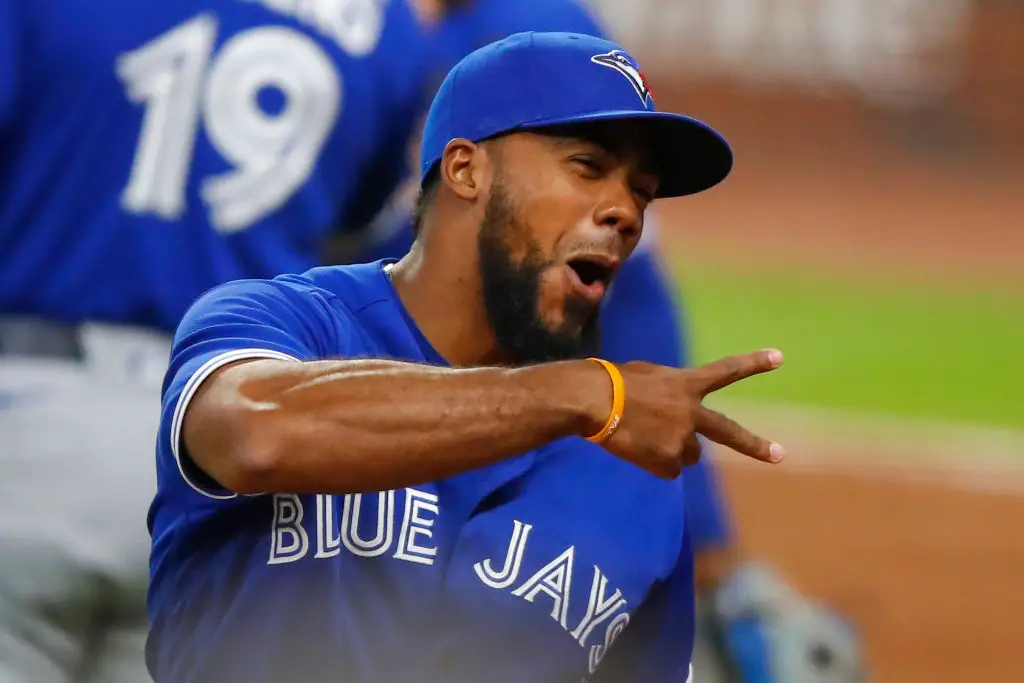 All-Star Teoscar Hernández intrigued by Home Run Derby
Teoscar Hernández is open to showing his home run stroke at Coors Field.
It was by the slightest margin that Toronto Blue Jays slugger Teoscar Hernández was voted the American League All-Star team last week. Edging Minnesota Twins outfielder Byron Buxton by just 5,000 votes, for the first time in his career, Hernández will participate in the Midsummer Classic.
"You know, I've worked hard for this," the 28-year-old from Cotuí, Dominican Republic, said. "With hard work and dedication, I get to enjoy the fruits of my labor."
Hernández does work hard for this. While watching him in pregame workouts in Oriole Park at Camden Yards, he resembles the famous Looney Tunes episode. The one where Bugs Bunny plays every position on the field.  
First, he takes grounders at third base alongside his paisano Vladimir Guerrero Jr.. Then, he takes some batting practice, launching missiles into the stands. Finally, he rotates around every outfield position before practice is over.
The fruits of his labor? In the 56 games since returning from the COVID-related injured list, he is hitting .305. In that same time span, he also has 69 hits – tied for eighth-most in MLB – and 45 RBIs – tied for ninth-most in MLB.
It's really quite impressive. That could be why fans have rewarded Hernandez by voting him to be a starter in the All-Star game.
Teoscar Hernández awaits Home Run Derby Invite
Don't let his deflated power numbers fool you. If last season was an indication of anything, it's that Teoscar Hernández is a bona fide power hitter.
In 50 games in 2020, he hit 11 home runs. That's a pace of 30 homers over the span of a 162-game season. His homers averaged a distance of 418 feet, ranking fifth in MLB. His deepest home run (above) sailed 466 feet, ranking in the top 10 farthest long balls hit last season.
He's on pace for only 20 home runs this season. But when he hits them, they still go far. In fact, his average home run distance is identical to that of last season. He has the fifth farthest ball hit this season, a 464-foot blast off Josh Tomlin.
With two slots remaining in this season's Home Run Derby, who better than Hernández to participate? When asked if he would like to partake in the highly anticipated contest, Hernández couldn't help but smile.
"I'd like to," he says. "I don't know if I have to tell them or if I need to wait to be invited, but I have not received any kind of information regarding that."
Still, Hernández thinks it would be fun to hit as many balls as he could out of Coors Field. 
"I imagine it would be really fun," he says, a look of joy on his face.
I couldn't help but agree.
Featured photo by Todd Kirkland/Getty Images.
Get the Our Esquina Email Newsletter
By submitting your email, you are agreeing to receive additional communications and exclusive content from Our Esquina. You can unsubscribe at any time.