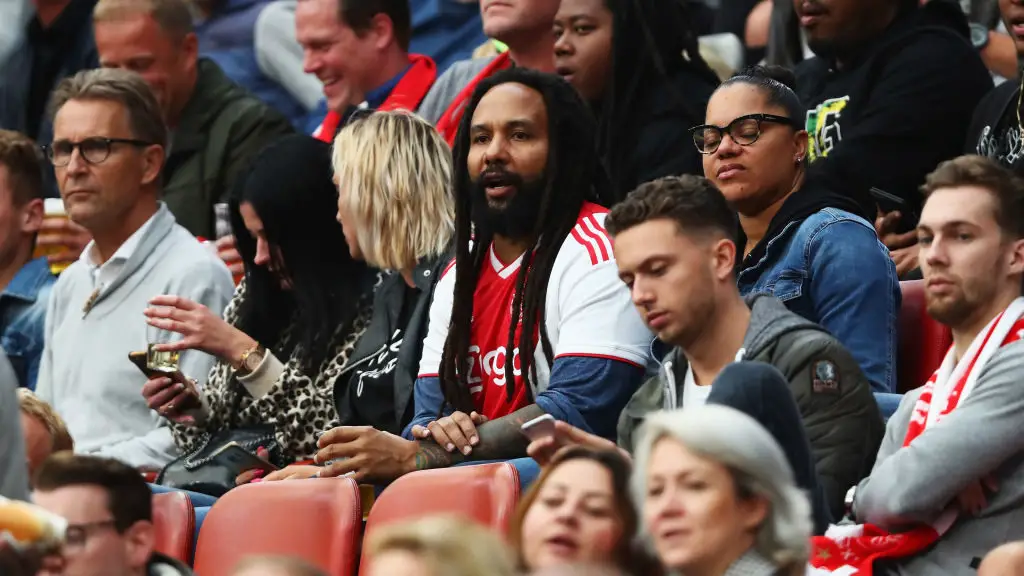 Ajax Sun is Shining in Bob Marley Jersey
Bob Marley's 'Three Little Birds' is fixture at Ajax games
Bob Marley was a soccer enthusiast. Now the Late reggae legend and his music are now memorialized on a soccer jersey.
Netherlands club Ajax and adidas, in collaboration with the Marley family, released a jersey for the 2021-2022 season that pays tribute to Ajax fans and their appreciation of Marley.  The Jamaican legend's song "Three Little Birds" has become a mainstay of Ajax games and with fans of the Amsterdam-based team since 2008. 
The jersey is the team's third jersey. It is black with red, yellow and green details. Three little birds in red, yellow and green are on the back of the jersey and sit on the St. Andrew's Crosses, which are on the city of Amsterdam's flag. 
Predictably, the Marley-themed soccer shirt is incredibly popular.
More than Bob Marley jersey
The jersey just one piece of the team's Marley-inspired collection, which includes a full tracksuit, sweater, T-shirt and a pair of limited edition iconic Samba sneakers. 
Marley's son Ky-Mani has made a few trips to watch Ajax play. Three years ago he attended Ajax's Eredivisie match against Emmen at Johan Cruyff Arena.
The sports and music world collaborating on uniforms is something that we hope to see more of in the future. Teams sell their gear in all sorts of colors and themes. Why not have a popular artist try their hand at influencing a uniform, even on a limited basis?
Take for example the game jerseys used at this year's Major League Baseball All-Star Game last month at Coors Field. They reflected very little about the game being played in Denver.  I would recommend to MLB that they use some local Los Angeles artists to help design next year's All-Star game jerseys.
I suggest Jonas Never, the artist behind many of the city's sport-themed murals. Never also designed one of the coolest baseball cards we can remember, the Joe Kelly Mariachi jacket card.  I bet he could come up with some sharp threads for the All-Star game. 
Topps out
Last week, the public learned that MLB and the MLB Players' Association will enter into an exclusive trading cards agreement with online sports-merchandise retailer Fanatics Inc. Currently the MLBPA's agreement with Topps runs until the end of the 2023 season while MLB's ends in 2025. 
Fanatics, Inc. is currently not in the trading card space. They will have some time to work on creating and marketing their product. The possibilities are endless for Fanatics, as they can create their own company that produces and market cards or purchase an existing company such as Upper Deck, Leaf or even Topps. 
This is a huge blow for Topps and their ownership group led by former Disney CEO Michael Eisner. They had plans to make Topps a publicly traded company. Topps has since ceased plans to go public and will still remain a privately- held company. 
It's still early, but the oft-ignored part of the discussion surrounding the Topps- MLB divorce is what Fanatics will do to help MLB and the MLBPA grow the sport and promote the game's biggest stars through trading cards. 
The industry has to be careful to not saturate a market nor make it inaccessible to fans. Speculators seem to dominate the market for cards, thus impacting the price of items. Trading cards can be a wonderful learning tool for young people to learn about the game. I hope that this is a point of discussion at Fanatics as they proceed forward. 
Get the Our Esquina Email Newsletter
By submitting your email, you are agreeing to receive additional communications and exclusive content from Our Esquina. You can unsubscribe at any time.