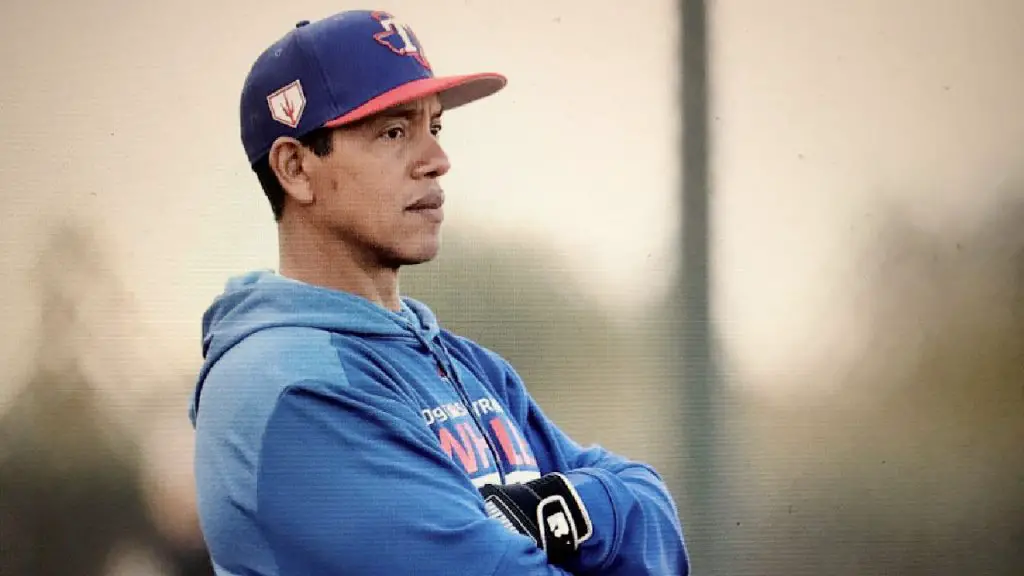 Texas Rangers: Luis Ortiz's Journey to The Show
How Texas Rangers hitting coach Luis Ortiz carved his own path to Major League Baseball.
When Luis Ortiz was just a teenager in the Dominican Republic, he caught a glimpse of Bien Figueroa, a local kid from his Santo Domingo neighborhood playing for Florida State University in the College World Series. That ESPN broadcast opened up a whole new world for Ortiz and inspired him to want to be a baseball player.
Ortiz came from a well-educated family in Los Jardines del Norte, which is located near Universidad Nacional Pedro Henríquez Ureña. His father Luis Ortiz Sr. was a lawyer. His mother Isabel Ortiz was a nurse.
At the time, baseball was a pipe dream for a kid out of the Dominican Republic. Fortunately, Ortiz's parents instilled within him a desire to obtain a college education.
Like any other kid, however, Ortiz dreamt of becoming a baseball player when participating in sandlot games with his friends. With time, he became better and better. So good, in fact, that his mother encouraged him to get involved in organized baseball.
"So, we went to the Centro Olympico," Ortiz recalls. "And got introduced to the Manny Mota system."
Ortiz wound up playing in the Manny Mota League for a few years before learning about Don Odermann's Latin Athlete Foundation (LAEF). Through LAEF, guys had an opportunity to go to college in the United States while continuing to play.
Fortunately, a local man by the name of Oscar Perez was in charge of the placement of players into the foundation. After trying out for Mr. Perez, Ortiz was accepted into the program.
"That's how I entered the foundation," Ortiz said. "So, I took English classes, graduated high school, and was placed in a little school in Jackson, Tenn."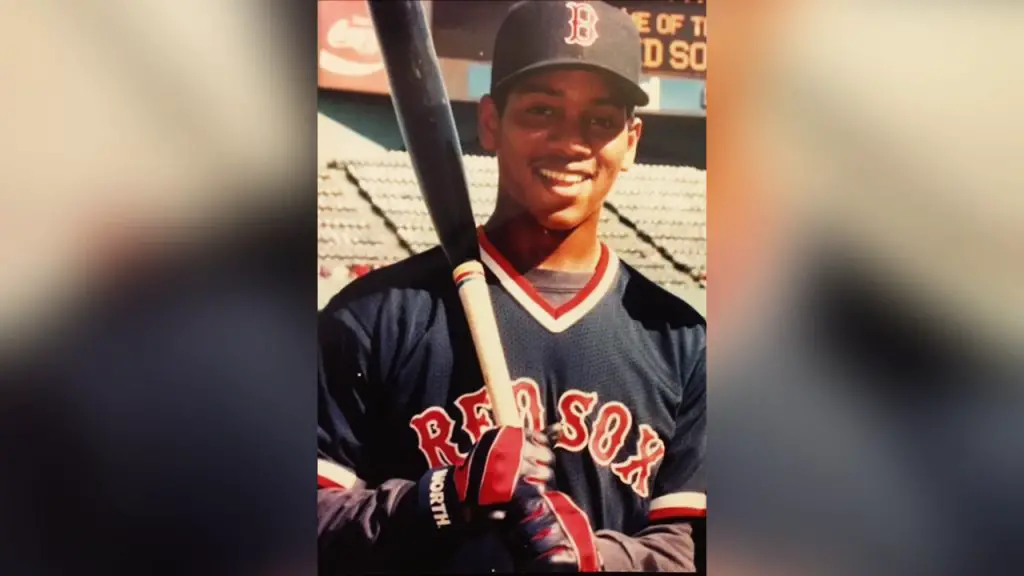 Thriving in Tennessee
When Luis Ortiz first stepped onto the campus of Union University, a small Southern Baptist school, he was surprised. This did not resemble the campuses featured on ESPN when watching Figueroa in the College World Series.
Fortunately, Ortiz preferred this small environment. It fit his personality better and reminded him of his days in El Colegio Dominicano De La Salle, a Catholic High School in Santo Domingo.
"As far as who I was personally," Ortiz says about Union University. "It matched who my personality was, and I thrived in that environment."
This doesn't mean that Ortiz never struggled to transition into this new life. "Leaving my mom and dad, my brother and sister, the comfort of home, language, and food was difficult," he said.
Fortunately, a number of people around the school made the transition a bit easier for Ortiz. 
His baseball coach Andy Rusching became something of a father figure. Also, his roommates treated him like a little brother and really took care of him. Even the cafeteria workers chipped in to help.
All of this helped Ortiz thrive, academically and in baseball, in his first year. In his second year, the older kids took notice of his game and encouraged him to attend a tryout. In attending these tryouts, one of the seniors thought, Ortiz would be able to get noticed by people with influence.
As it turns out, they were right. The Texas Rangers noticed Luis Ortiz. "They were like, 'Who are you? How have we never heard of you?'" he said.
For the remainder of his sophomore year at Union University, the Rangers and the Boston Red Sox sent scouts to watch him play. Other organizations and schools sent him Christmas cards.
In his junior year, Ortiz was drafted in the 8th by the Red Sox in the 8th round of the 1991 June Amateur Draft. For the first time since moving to the US, he needed to make a decision: finish school or pursue his dream of playing in Major League Baseball.
Ortiz chose the latter… at least for now.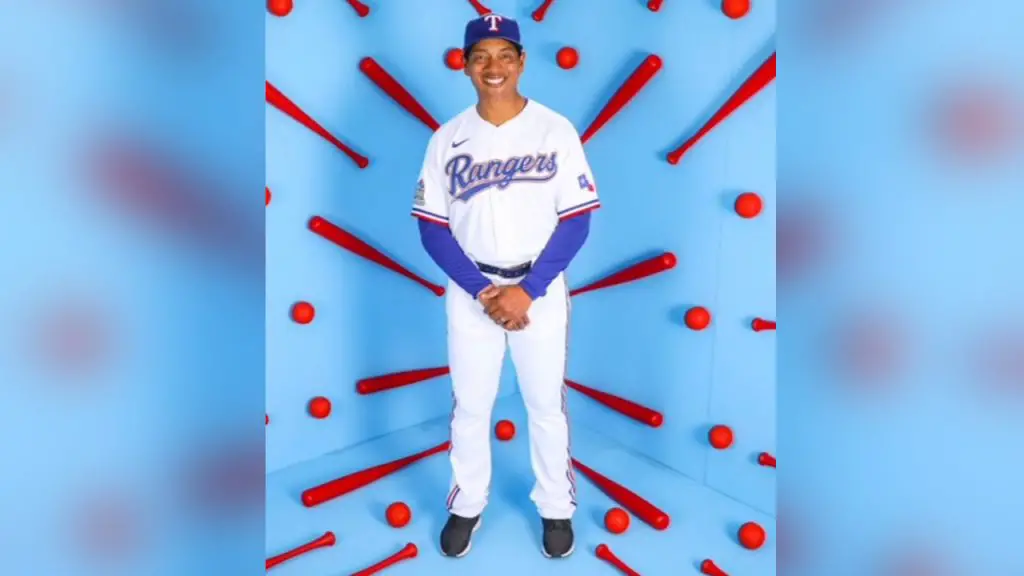 The Road to The Show
Luis Ortiz catapulted through the Minor Leagues in his first three years, hitting a combined .299 across Rookie Ball, Class A+, and Class AAA. By August 1993, the Red Sox called him up to play third base and pinch-hit.
Over the next four seasons, Ortiz split time between MLB and Class AAA with the Red Sox and the Rangers. However, injuries would keep him from staying in the big leagues for too long.
Twelve years into his career, Ortiz called Union University and asked what he needed to complete his degree remotely. This way he could continue playing baseball and providing for his family while working toward a college degree.
Upon obtaining his degree, Ortiz finally decided to hang up his cleats and opened up a baseball school in Texas called Swing City Baseball. This lent him the opportunity to homeschool his four girls in the morning and in the afternoon run lessons and camps for his clients.
He did this for four years before receiving a call from the Rangers' Minor League Director, who is currently the manager of the Seattle Mariners Scott Servais. This time, they were wondering if he had any interest in coaching.
At first, it took a little convincing to get Ortiz back in the game. The Rangers were determined and they offered him a three-month coaching position in Washington with their Class A Short Season team, the Spokane Indians, and he accepted.
The Rangers really liked what they had in Ortiz and wanted him to come back. "So, they created this role for me," he said. "It was kind of like a coordinating job. I would come home for two weeks and go on the road for two weeks."
Ortiz worked for the Rangers organization for five years before moving on to serve in a number of roles for the Indians, Padres, and Dodgers. In 2019, Ortiz returned to Texas to serve as Chris Woodward's hitting coach.
Immediately, the team saw an improvement in offensive production form 2018. Their average jumped from .240 to .248 and OPS went from .722 to .750. Joey Gallo earned his first All-Star nod whilst putting together by far the best offensive season of his career before landing on the injured list.
This year was a bit of a different story. 
"It was a challenging year in so many regards," he said. "We had a lot of injuries and had to play a lot of our younger players, which for the future will be one of the best things for us. For the present, it was not very good."
Ortiz looks forward to getting back to work. "It's been such a stressful year," he said. "I think the country needs baseball; the country needs entertainment and being able to just relax."
Get the Our Esquina Email Newsletter
By submitting your email, you are agreeing to receive additional communications and exclusive content from Our Esquina. You can unsubscribe at any time.