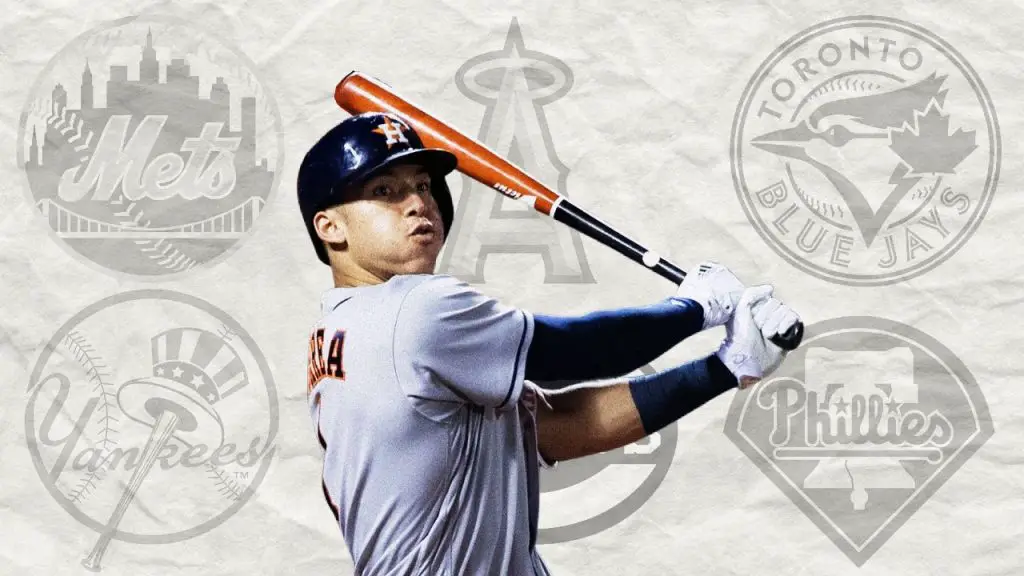 MLB Trades: Five Possible Destinations for Carlos Correa
Recent rumors have the Houston Astros open to dealing shortstop Carlos Correa. Let's explore some possible MLB trades for the Ponce, Puerto Rico native.
This week, Ken Rosenthal of The Athletic reported that the Houston Astros are floating around the idea of trading their star shortstop Carlos Correa. If true, this offseason will be one of the most active in terms of MLB trades. Especially when you consider that Correa's paisano and fellow shortstop Francisco Lindor is likely to be dealt away too.
So, in the interest of sheer entertainment, today Our Esquina will assess SIX possible trade proposals. Then, using Baseball Trade Values' trade simulator, which holds a 94.5% trade acceptance rate when used to assess real trades, we will determine of said deal could be accepted.
Taking the 'Showrrea' to Toronto?
One possible trade destination for Correa might be Toronto. Though this move would require pieces to swap positions, it could potentially end up being the most dangerous infield in all of baseball.
Correa would likely move to third base in order to keep Bo Bichette at his natural position at shortstop. Now, Correa has never played third base at the major league level either, but given his experience, he should be able to make the adjustment á la Alex Rodriguez.

So, what will it take for the Jays to acquire Carlos Correa? One possibility is for Toronto to offer up 20-year-old pitcher Simeon Woods Richardson. Given the Astros' knack for developing pitchers, they may approve of this straight player-for-player deal.
What's more, Richardson is the Jays' number four prospect, according to MLB. Also, Baseball America lists Richardson in the top 100 prospects in all of baseball.
BTV approves this deal and gives the Astros a slight edge.
Could Correa go to Philly?
With the Phillies allowing shortstop Didi Gregorius to walk, the organization is in the market for a shortstop. Fortunately, there's one in Correa on the block who is arguably better than Didi and will cost a lot less.
Correa is currently in his third year of arbitration eligibility. Last season, he was set to make $8 million in salary before the pandemic. Given his performance in the postseason, this season he is set to get a pay bump. According to Spotrac, Correa will likely command somewhere around $9.1 million.

To acquire Correa, the Phillies will have to offer up multiple players. The most realistic option at this point would be pitcher Mick Abel and shortstop Luis Garcia.
Abel was drafted in the first round in the June Amateur Draft, so there isn't much evidence of what he'll do playing professional ball. However, experts and analysts seem to think that the future is bright for the kid, ranking him 11th in MLB Prospect Rankings.
Luis Garcia was the eighth-ranked prospect according to MLB Pipeline's Top 30 International Prospect list when he was drafted. Since then, in two Minor League seasons, he has shown some promise but requires more time to develop.
BTV approves this deal and also gives the Astros a slight edge.
The King of Queens
Whenever you discuss MLB trades involving a superstar, you have to imagine the Yankees and now the Mets under Steve Cohen will be in play. The former is the wealthiest organization in baseball while the latter features the richest owner in the sport.
So, what are some offers these teams can produce? Let's start with the Mets.

Like the Phillies, the Mets will have to part with multiple players/prospects in order to entice the Astros to part with Carlos Correa. One possibility, which is approved by BTV, is super-utility J.D. Davis, infield prospect Jaylen Palmer, and shortstop Amed Rosario.
In Davis, the Astros would be reunited with a former prospect. What's more, he has since improved his presence at the plate and power production. In Palmer, the organization will get a 20-year-old prospect who has shown he can hit professionally. Finally, in Rosario, the Astros can replace Correa with a plus defender who carries an adequate bat.
Boogie Down Bronx
Admittedly, given the sour relationship between both parties, the Bronx is probably the least likely destination for Correa. Stranger things have happened however, so we will entertain the thought.

The team will be hard-pressed to deal any of their arms because they lack pitching. Fortunately, one deal that is approved by BTV is outfielder Estevan Florial, shortstop Oswald Peraza, and cash.
In Florial, the Yankees would be parting with one of their many MLB-ready outfielders. In the past, he has ranked top-50 according to MLB, Baseball Prospectus, and Baseball America's prospect list. What's more, he already features a plus bat and good defensive ability.
Similar to Florial, Peraza also carries a plus bat. In fact, though he lacks some power, MLB Pipeline lauds his "bat-to-ball" skills. He's a line-drive hitter, who can hit the ball to all fields. Additionally, he has earned praise for his speed and defensive ability.
Big Red Machine Redux
The next two MLB Trades will involve the Cincinnati Reds. The first offer is strictly between the Reds and the Astros. The second includes a third team in the Los Angeles Angels.

In this blockbuster, the Astros would be giving up two players for the price of one. The Reds would part ways with Sonny Gray and in turn receive Correa and pitcher Cristian Javier.
Gray had something of a resurgence since joining Cincy in 2019. During that time, he has posted a 16-11 record with a 3.07 ERA. Partnering up with the Astros organization could prove even more fruitful for Gray.
BTV approves this deal and rates it even.
A 3-Way Trade Option
One of the more interesting trade options approved by BTV includes the Angels and Reds teaming up to make a deal. Like the Yankees deal, however, this offer is unlikely because teams within the same division don't tend to trade with one another.
However, anything is possible, so why not this?

In this six-player deal, the Halos would get Sonny Gray, the Reds would get Carlos Correa and Lance McCullers Jr., and the Astros would get pitcher Hunter Greene, shortstop Kyren Paris, and pitcher Griffin Canning.
This deal would most certainly usher in a rebuild period for the Astros. However, it will provide them with three players age 24 or younger and with plenty of upside.
In Greene and Paris, the Astros would be getting two top-5 prospects. Greene is listed as the number-2 prospect in the Reds system while Paris currently ranks number five in the Angels system. Additionally, the Astros would be getting Canning, a 24-year-old starter who has shown progress in two MLB seasons.
It's unclear just how much interest the Houston Astros have generated for their star shortstop. One thing the team knows, however, according to the Rosenthal piece, is that they are "unlikely to sign him before he reaches free agency at the end of the season."
So whether it happens now or mid-season, expect to see Correa in a different uniform soon.
(Original image by Keith Allison, CC BY-SA 2.0, via Wikimedia Commons)
Get the Our Esquina Email Newsletter
By submitting your email, you are agreeing to receive additional communications and exclusive content from Our Esquina. You can unsubscribe at any time.