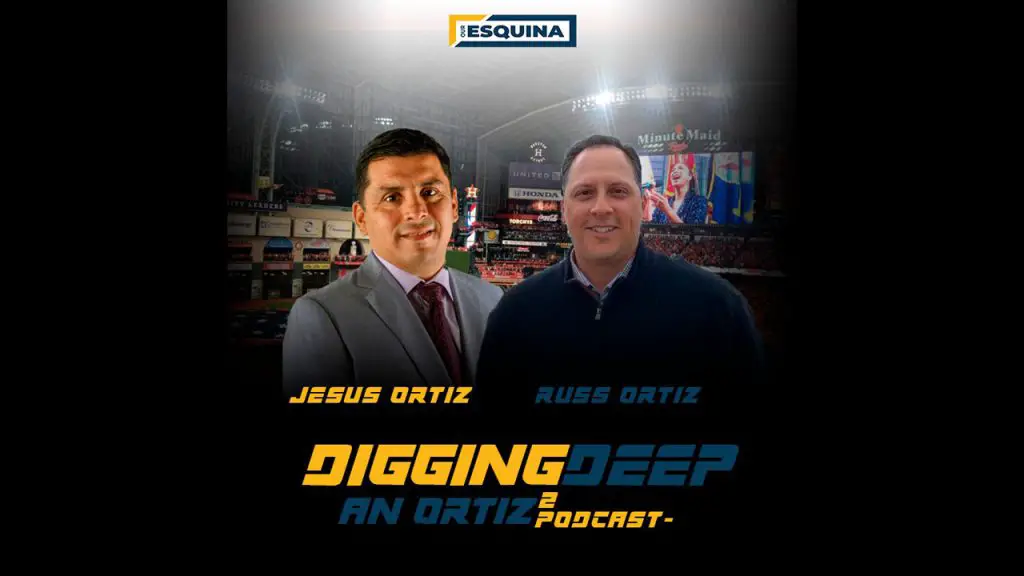 Russ Ortiz shows how, why pitchers use foreign substances
Digging Deep co-host Russ Ortiz knows a thing or two about pitchers using foreign substances. He has a grip on the situation, pun intended.
Russ Ortiz, a former All-Star who won 113 games during his big league career, explained how and why he used foreign substances in his career.
In the latest episode of Digging Deep, an Ortiz (squared) podcast, Russ Ortiz and co-host Jesus Ortiz broke down the longtime use of foreign substances by pitchers.
They also discussed the non-confession "confession" Yankees ace Gerrit Cole gave when New York Post columnist Ken Davidoff asked him if he had ever used Spider Tack.
"I don't quite know how to answer that, to be honest," Cole told Davidoff during a Zoom news conference Tuesday night. "There are customs and practices that have been passed down from older players to younger players to the last generation of players to this generation of players, and I think there are some things that are certainly out of bounds in that regard, and I've stood pretty firm in terms of that, in terms of the communication between our peers and whatnot.
"[T]his is important to a lot of people who love the game, including the players in this room. Including fans. Including teams. If MLB wants to legislate some more stuff, that's a conversation that we can have because ultimately we should all be pulling in the same direction on this."
As Russ Ortiz and Jesus Ortiz noted, Cole is right.
This is definitely a practice that has been passed down in the majors for several generations.
For decades it has been an open secret that pitchers use foreign substances to get a grip or gain an advantage while throwing their pitches. The better the grip, the better the spin rate on pitches.
Umps on lookout for foreign substances
But as offensive numbers plummet throughout baseball, Major League Baseball officials have started to force umpires to enforce the rules that have been ignored for years.
The Ortiz (squared) podcast hosts also tried to understand why the Dodgers' Trevor Bauer kept pounding the drums against other pitchers using foreign substances on their baseballs while he was likely doing the same thing.
"This should be the biggest scandal in sports," a major league team executive told Sports Illustrated for a recent cover story.
That seems a bit much, considering this behavior is hardly new to the game.
A little shaving cream before delivering chin music
In Russ Ortiz's case, he would put some shaving cream on the palm of his hand before taking the mound. He would put a dime size amount of shaving cream on one hand and rubbed it all over his hands.
Shaving cream is just one of the foreign substances pitchers have used over the years.
Pitchers, however, aren't the only ones using pine tar or other sticky substances to help. Catchers also use substances on the ball to help their pitchers.
MLB is no longer looking the other way. The open secret is out.
Listen to Russ Ortiz and Jesus Ortiz as they discuss the various ways pitchers and catchers put sticky substances on their baseballs to gain advantages over hitters.
Follow Russ Ortiz and Jesus Ortiz on Twitter.
Subscribe: Apple Podcasts / Google Podcasts / Spotify / Amazon / Stitcher
Get the Our Esquina Email Newsletter
By submitting your email, you are agreeing to receive additional communications and exclusive content from Our Esquina. You can unsubscribe at any time.