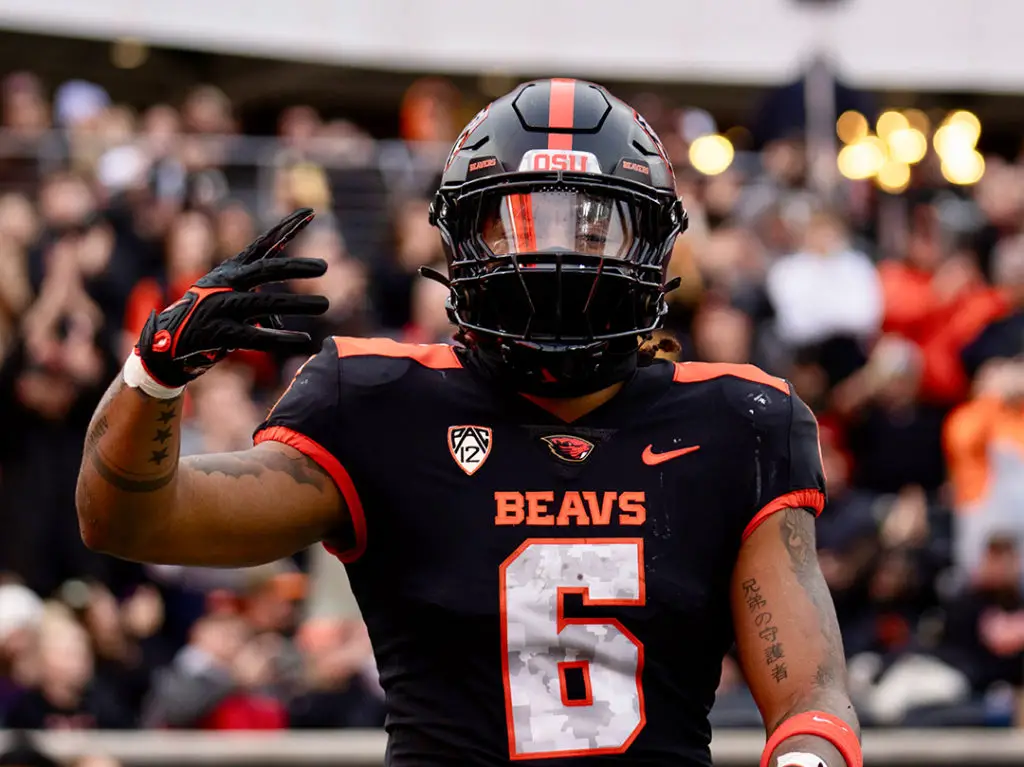 Oregon State's Damien Martinez adds record
Damien Martinez highlights weekly recap of Latinos in College Football
Damien Martinez had a career day before halftime on Saturday. Only Oregon State coach Jonathan Smith could stop the Beavers' sophomore running back from Lewisville, Texas.
Smith did what Stanford's defense couldn't, shutting down Martinez early in the third quarter. Martinez scored a career-high four rushing touchdowns. More impressively, he got 136 of his 146 yards and all four touchdowns before halftime on 12 carries. 
The 6-foot running back finished with 146 yards on 15 carries in the 62-17 victory over Stanford. The 2022 Freshman All-America earned Our Esquina's Player of the Week honors for Week 11. 
Martinez, who also had two catches for 16 yards, entered Saturday with only three touchdowns this season. Now he has seven touchdowns for the second consecutive season. His four touchdowns tied an Oregon State single-game record.
"I learned about that (record) midway through the game too," he said. "By halftime I could have got five or six, I thought also. But coach Smith took me out, pulled me early. It was nice to see my guys get in and do their thing too."
Damien Martinez eclipsed 1,000-yard mark
Martinez rushed for 982 yards with seven touchdowns on 161 carries as a freshman. He has 1,024 yards on 155 carries with seven touchdowns this season. He has eclipsed the 100-yard rushing mark five times this season and 11 overall in his college career.
Damien Martinez might have rushed for 200 yards if Smith hadn't pulled him early.
"That definitely feels good," Damien Martinez said of the 1,000-yard mark "I was 80 yards shy last year. Got hurt in the bowl game, but it definitely feels good."
Boston College quarterback Thomas Castellanos completed half of his 20 passes for 110 yards. He threw a touchdown and two interceptions in the 48-22 loss to Virginia Tech.
He also rushed for 46 yards on 11 carries. UCLA receiver Logan Loya scored the Bruins' only touchdown in a 17-7 loss against Arizona State. He had three catches for 39 yards and a 31-yard punt return.
Fernando Mendoza continues to shine 
Fernando Mendoza led Cal to a 42-39 victory over Washington State. He threw for 150 yards and two touchdowns while completing 14 of 21 passes. The freshman quarterback from Miami added five rushing yards on seven carries. 
Richie Munoz led Weber State to a 31-29 victory over Idaho. He threw for 152 yards and one touchdown on 10 of 18 passing. He rushed for eight yards on three carries. 
Kansas State sophomore running back Anthony Frias rushed for eight yards on two carries against Baylor. RJ Garcia III added a two-yard catch in the 59-25 victory over Baylor. Garcia added two tackles.
Washington State freshman receiver Carlos Hernandez had a one-yard catch against Cal. 
Oklahoma State redshirt freshman quarterback Garret Rangel was 0 of 3 on pass attempts in relief against UCF. Texas Tech running back Cam'Ron Valdez rushed four times for 14 yard in Texas Tech's upset win against No. 16 Kansas.
Joey Aguilar beats Georgia State
Joey Aguilar guided Appalachian State quarterback to a 42-14 victory over Georgia State. He threw for 255 yards and three touchdowns and an interception. Aguilar completed 14 of 21 passes and rushed for 20 yards on five carries.
Idaho State's Aaron Blancas had two punt returns for 14 yards in a 21-14 loss against UC Davis. Toledo' tight end Anthony Torres had two catches for 27 yards. Kent State running back Gavin Garcia rushed six times for 24 yards.
North Carolina State freshman wide receiver Kevin Concepcion had five catches for 86 yards. He added 19 yards rushing on three carries in a 26-6 victory over Wake Forest. 
Northern Arizona quarterback Angel H. Flores threw for 167 yards and a touchdown while completing 18 of 22 passes. He added 33 rushing yards and a touchdown on 12 carries in a 28-7 victory over Northern Colorado.
Cole Gonzales shines again
Quarterback Cole Gonzales guided Western Carolina to a 58-7 rout over East Tennessee State. Gonzales threw for 363 yards and five touchdowns. He also rushed for six yards on four carries. 
New Mexico State quarterback Diego Pavia threw for 141 yards and two touchdowns in a 38-29 victory over Western Kentucky. He completed 14 of 24 pass attempts. Pavia added 44 rushing yards on nine carries.
UC Davis' Matteo Perez rushed for two yards on two carries against Idaho State. He also had a five-yard catch. 
Defensive Player of the Week: Jesus Machado
Tulane linebacker Jesus Machado had a busy day in Tulane's win against conference rival Tulsa. He tallied six tackles and a tackle for loss. Stanford's Wilfredo Aybar had four tackles, and Jshawn Frausto-Ramos had a tackle against Oregon State. UCLA Kain Medrano had four tackles against Arizona State.  
Texas Tech junior linebacker Jacob Rodriguez had four tackles, including a tackle for loss. Bryce Ramirez registered three tackles against Kansas. UCF sophomore defensive back Nikai Martinez had four tackles against Oklahoma State. 
Iowa's Sebastian Castro had three tackles and a pass deflection as Iowa's defense put on a clinic against Rutgers. The Hawkeyes secured their first shutout since 2019. Arizona's Gunner Maldonado had one tackle against Colorado.
Washington State's Ron Stone Jr. had one tackle and a fumble recovery against Cal. Colorado State senior linebacker Justin Sanchez was second on the team in tackles with seven. 
New Mexico State's Angel Munoz had one tackle against Western Kentucky. New Mexico's Alec Marenco had four tackles in a 42-14 loss to Boise State. Gabriel Lopez added three tackles and half a sack for the Lobos in the loss. 
Kent State's Javier Duran had one tackle. Eastern Michigan's Adrian Hernandez, Korey Hernandez two tackles. Julian Ortega Jones had one tackle for Texas State in a 31-23 loss against Coastal Carolina. David Nunez added a tackle.
Idaho State's Kris Sanchez had an interception in a 21-14 loss against UC Davis.
Special Teams Player of the Week: Gino Garcia
Texas Tech kicker Gino Garcia hit a 30-yard field with three seconds to play to cap a 16-13 upset victory over Kansas. Garcia made 3 of 4 field goal attempts, including a 32 yarder. He was good in his only PAT attempt. 
LSU kicker Damian Ramos made a 28-yard field and seven PATs against Florida. Iowa State kicker Chase Contreraz made a 31-yard field goal. He added six PATs in a 45-13 victory over BYU. UNLV kicker Jose Pizano made two field goals, including a 43-yarder. He added four PATs in the 34-14 victory over Wyoming. 
San Diego State kicker Gabriel Plascencia kicked two field goals with a long of 38 yards. He added a PAT. Miami kicker Andres Borregales hit a 51-yard field goal in Miami's 20-27 loss to No. 3 Florida State. He finished 2 for 3 in field goals and added 2 PATs
Colorado kicker Alejandro Mata kicked four PATs in Colorado's loss to Arizona. He also added a 39-yard field goal. Tulane kicker Valentino Ambrosio- hit a 30-yard field goal and three PATs
Wake Forest punter Ivan Mora averaged 40.2 yards per punt over seven punts against N.C. State. Old Dominion kicker Ethan Sanchez made a 38-yard field in the 38-10 loss to Liberty.
Ricardo Chavez hits 53-yarder
Idaho kicker Ricardo Chavez made two field goals, including a 53-yarder against Weber State. He added a PAT. Chavez also averaged 47.3 yards per punt on three punts. Bowling Green kicker Alan Anaya kicked seven PATs.
South Alabama kicker Diego Guajardo made three PATs in the 21-14 victory over Arkansas State.
Eastern Michigan kicker Jesus Gomez made one field goal for 25 yards and two PATs. New Mexico punter Aaron Rodriguez averaged 39.5 yards over four punts with a long of 43 yards.
Featured art courtesy of Oregon State.
Get the Our Esquina Email Newsletter
By submitting your email, you are agreeing to receive additional communications and exclusive content from Our Esquina. You can unsubscribe at any time.