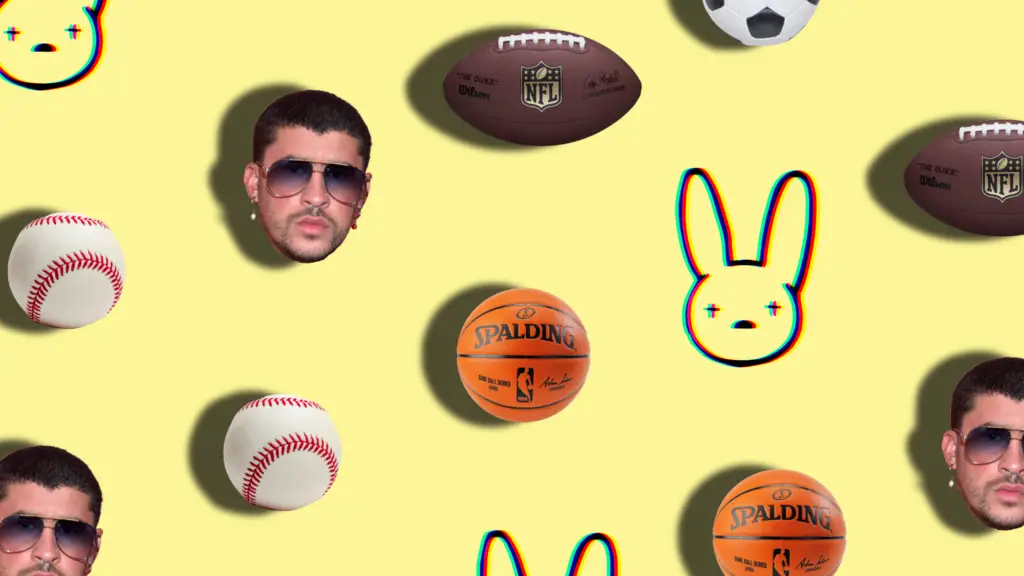 Top 10 Bad Bunny sports references
Puerto Rican rapper Bad Bunny has a knack for making sports references in his music.
When Boricua superstar Bad Bunny isn't preparing for his record-breaking stadium tour, you might find him body-slamming world-class wrestlers in the WWE Royal Rumble. As such, today we have compiled a list of sports references the rapper/wrestler makes in his highly acclaimed music.
So, if you have listened to the San Juan, Puerto Rico, native's music – and you probably have – or plan to, listen close to these sports references you may have missed.
---
We begin with the 27-year-old's latest single Volví. Alongside Dominican bachata group Aventura, Bad Bunny makes reference to the face of baseball Fernando Tatís Jr. in the song's chorus.
"Get on all fours and I'll hit it like Tatís," he says in the song whose video has already generated more than 240 million views on YouTube.
"Porque volví, por ti

Pa' hacértelo bien rico como te gusta a ti

Ponte en cuatro y te la saco como lo hace Tatís

Te montaste en la Jeepeta y no tenía' panti"

(Time codes: 1:10 and 2:40)
---
The baseball references don't end there. In the opening track, titled "El Mundo Es Mio" (The World is Mine), of his latest album "El Ultimo Tour Del Mundo," he demands the Cy Young.
"I always pitch," the rapper proclaims. "Give me the Cy Young."
"Ey, yo pasé de cero a siete-25, despué' un millón

Nadie me saca del sillón

Yo siempre picheo, denme en el Cy Young

¿Dónde están que no los veo? No los veo"

(Time code: 1:51)
---
Bad Bunny sports references in "25/8"
The following two NBA references come from Bad Bunny's 2020 hit song 25/8. This song refers to his non-stop hustle and his level of success. The Boricua rapper will literally go 25 hours a day, 8 days a week if necessary.
This first lyric makes mention of Dallas Mavericks star Luka Dončić. "There's no way that I fail," Bad Bunny says.
"Hoy salimo' pa' la calle

Luka Dončić, no hay manera que yo falle

Seguimos a 200 y no vamo' a bajar

Siempre estamo' en PR, malianteo', bellaqueo', coronar"

(Time codes: 0:36 and 2:20)
---
Later, the rapper refers to the level of his success. In his mind, he just can't be beaten.
"Without going to the playoffs," he said, "I won the finals."
Sin ir a playoff gano la final

Tú me toca' y no te vuelve' a reafinar

La guitarra te la vo' a desafinar

En RD me dicen 'Mi loco, tú ere' el final'"

(Time code: 1:41)
Later, he talks about how he gets money, comparing himself to NFL wide receivers.
Nunca seguidor, yo siempre he sido un líder

7/25, bo, con eso no se vive

Pero ahora estamo' facturando como Wide Receiver

Mis versos son clásico' como Boca-River

(Time code: 3:00)
Finally, he returns to his favorite sport of entertainment, wrestling.
Yo tengo mucho' chavo', por eso 'toy chilindrina

Lowkey, nunca me dejo ver, como John Cena

Recuerda, los bichote' no se paran en la esquina

Soy como boogeyman, salgo cuando hay neblina

(Time code: 3:37)
More References
For four consecutive years — 2015 – 2018 — the Golden State Warriors and the Cleveland Cavaliers duked it out for the NBA Finals trophy. For the most part, the Warriors came out on top. That is until LeBron James willed his Cavaliers to victory.
Bad Bunny makes reference to Warriors star Stephen Curry and former Cavalier LeBron James in his 2016 duet with Arcángel called Tu No Vive Asi.
"Remember that Curry makes them in," he said. "Until Lebron guards him."
"No te la crea'

Recuerda que Curry las mete

Hasta que Lebron lo gardea"

(Time code: 0:36)
Later in the song, the 27-year-old switches from field goals to soccer goals. In this lyric, he says, "Never made a goal, but I have Cristianos (Cristiano Rolando) praying to Messi."
Refuta mi tesis

Cabrón, y te vamos a dar catequési'

No he metido un gol

Y tengo cristianos orándole a Messi

(Time code: 1:50)
---
In the song Tú Metes Cabra, Bad Bunny introduces himself like the wrestler The Undertaker. It's easy to picture the rapero entering to the sound of hell's bells, emerging through a cloud of smoke (bruma).
"Yeah, estoy subiendo como espuma

Prendiéndole en la cara al que no fuma

Ando con Adidas, veloces como Puma

El Undertaker saliendo de la bruma"

(Time code: 0:35)
---
In Bad Bunny's 2017 hit song Chambea, the rapper compares himself to rebel wrestler Stone Cold Steve Austin.
"I don't get along with anybody," he says in the song. "My flow is like Stone Cold."
La gente ya sabe, por eso ni ronco

No me llevo con nadie, andamos flow Stone Cold

Saqué mil dosciento' y me puse una Concord

Mamma, el piquete de bronco

(Time code: 2:25)
Get the Our Esquina Email Newsletter
By submitting your email, you are agreeing to receive additional communications and exclusive content from Our Esquina. You can unsubscribe at any time.