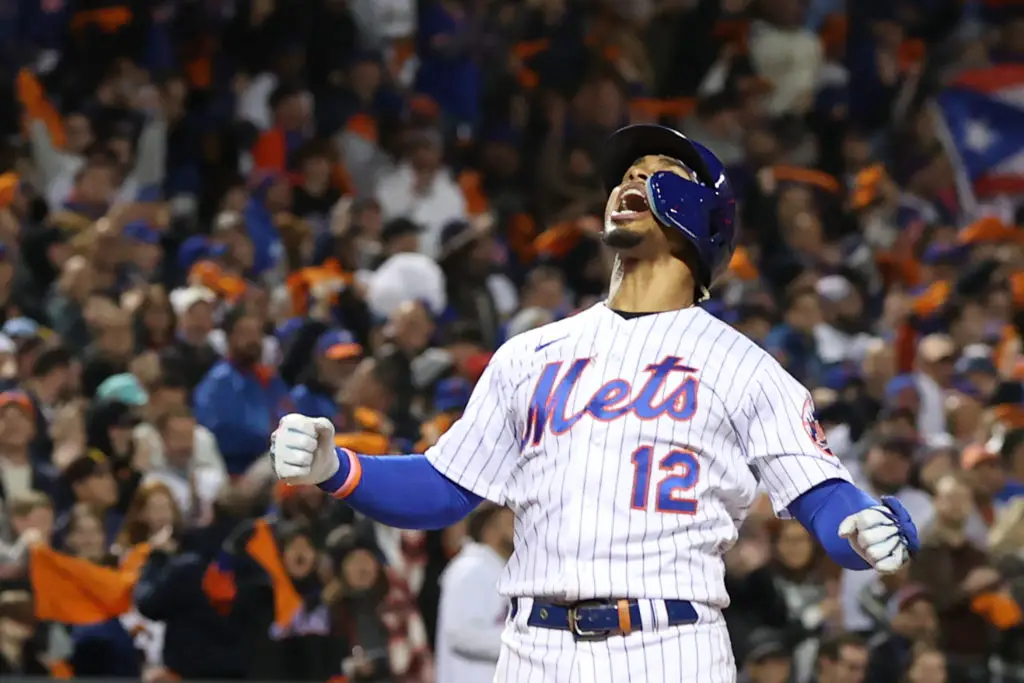 Francisco Lindor finally sheds 'Mr. Smile' persona
Francisco Lindor embraces new role.
New York Mets shortstop Francisco Lindor finally shed the persona that made him a lovable figure many moons ago in Cleveland.
No smile shone on his face as he circled the bases after swatting a first-inning slider into the left field seats at Citi Field. Instead, the 28-year-old clenched his fists on either side of his torso and puffed his chest, like a superhero finally shedding his alter ego in favor of his more powerful true self.
For 175 days, the Mets enjoyed the spoils of being in first place in the NL East. In the end, they surrendered that lead to the Atlanta Braves, putting them in this Wild Card Series.
In hitting his home run Saturday night, the two-time Silver Slugger set the tone for a team that's been scuffling. It led to a 7-3 rout over the San Diego Padres, forcing an elimination game. It also reminds the baseball world that this Mets team is not to be taken lightly.
"Today, we played very Mets-like," the Caguas, Puerto Rico, native said. "We put the ball in play, we run the bases right, we play good defense. We pitch, we stay together, and we win together."
Turning the Page
During the regular season, the Mets won 101 games. That's the second-most wins in franchise history behind the 1986 championship team.
With Francisco Lindor locked in, the Mets' eyes are set on meeting the same fate as the '86 team.
This Game 2 victory puts them on the path to being one step closer to that goal. Still, Lindor remains focused on the task at hand.
"Yeah, we learned from today, turn the page, come back tomorrow, and focus on what we have in front of our feet," he said. "Every day is a little different. It might be the same opponent, but every day is a little different.
"We've got to turn the page, celebrate tonight, turn the page, and focus on tomorrow."
Tonight, the Mets will look to correct the missteps they had at the end of the regular season. They look to hit the reset button and return to who they were at the start of the year.
They look to do so with a not-so-happy-go-lucky superstar shortstop. Instead, the Mets will get a laser-focused Boricua on a mission.
And we know that when a Latino sets his eyes on the prize, it's game over for the other guy.
Get the Our Esquina Email Newsletter
By submitting your email, you are agreeing to receive additional communications and exclusive content from Our Esquina. You can unsubscribe at any time.