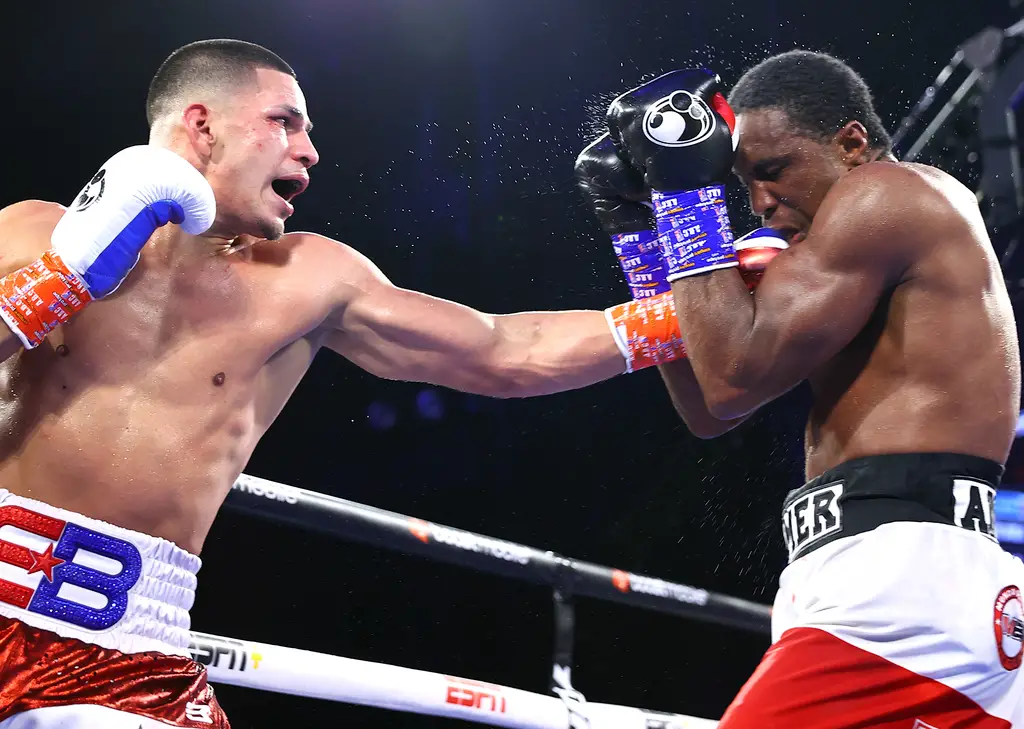 Edgar Berlanga rewards Puerto Rico faithful
Nuyorican Edgar Berlanga remains undefeated, pays homage to Tyson
NEW YORK – Let the Puerto Rican Day celebration begin, sorta. In yet another bout without a glimpse of his once glorified knockout power, Edgar Berlanga went the distance to tack on another win via unanimous decision over Alexis Angulo.
But it was his seventh-round antics that caught the eye of many around the sport.
Fighting in front of a predominantly Puerto Rican crowd at Madison Square Garden's Hulu Theater, "The Chosen One" was caught by ESPN cameras attempting to bite Angulo both on the shoulder and ear, a la Mike Tyson.
When asked about the incident following the final bell, Berlanga tried his best to play it off as a joke. That antic, though, could have had him disqualified. 
"He was throwing elbows. I was about to do a Mike Tyson on him. He kept throwing his elbows, and I didn't want to get cut," said Berlanga, who now improves to 20-0.
Heading into the night with a seemingly fading buzz around his legitimacy, Berlanga gave the doubters even more ammo to discredit him. 
Edgar Berlanga remains undefeated 
On a night that saw the likes of Fat Joe, Devin Haney and Miguel Cotto in the building to watch the headlining bout, Berlanga knew it would not be easy.
"It was fun. I had to stick to the game plan," Berlanga said. "Angulo is a tough veteran. He fought for the title two times. He fought (David) Benavidez. He fought (Gilberto) Ramirez.
"I knew it wasn't going to be an easy contest."
While many still yearned for a display of punishing blows, Berlanga credited the decision to enduring a full training camp in Puerto Rico for this fight.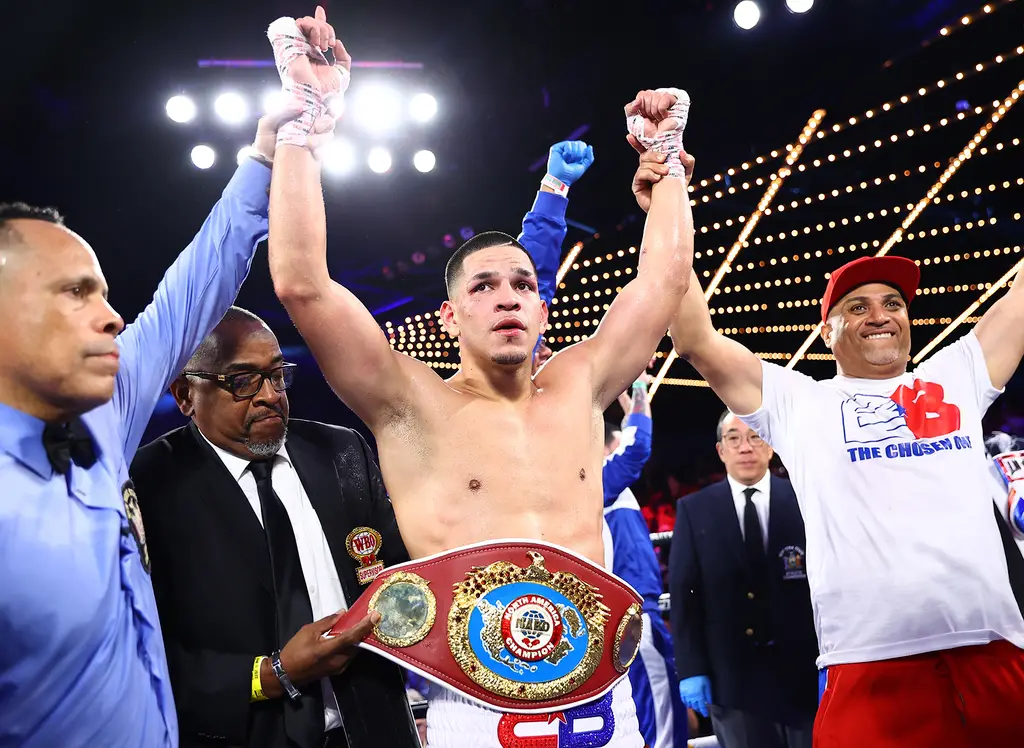 "Mentally, I felt good. I felt happy the whole training camp," Berlanga said. "I moved the training camp to Puerto Rico, and I can't be more grateful to be on my island training. I did a full camp for this fight, and you see the difference tonight."
With Angulo now out of his way, Team Berlanga will now see who will be next. 
Challengers will be bountiful as many look to dethrone Edgar Berlanga from the NABO super-middleweight title belt.
Miguel Cotto honored
With Miguel Cotto on hand for the majority of the night, the Puerto Rican great was honored in the ring by Madison Square Garden.
Cotto, who is set to be enshrined into the International Boxing Hall of Fame later today, was presented with an honorary key to The Garden in honor of his prolific career and memorable bouts at the Mecca of Boxing.
Along with his key, the first ever Miguel Cotto Award was unveiled and given to the winner of each main event on Puerto Rican Day weekend. 
Its inaugural recipient was fellow Puerto Rican Edgar Berlanga. 
Get the Our Esquina Email Newsletter
By submitting your email, you are agreeing to receive additional communications and exclusive content from Our Esquina. You can unsubscribe at any time.