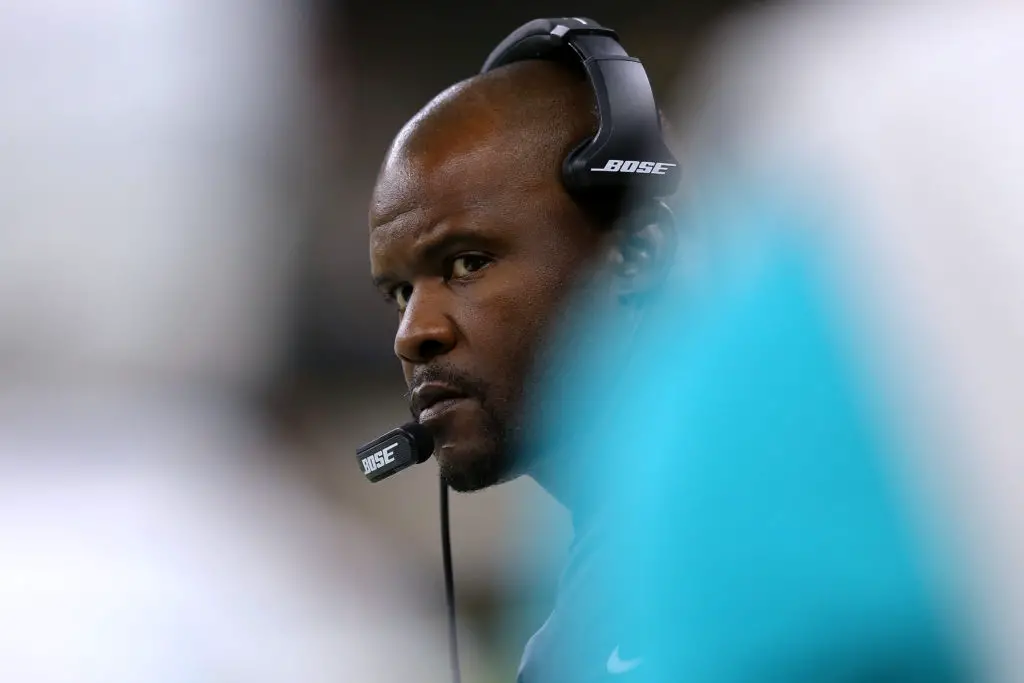 Brian Flores sues NFL, seeks generational change
Afro Latino coach Brian Flores sees opportunity for real change in the NFL
The National Football League has a race problem. It's the worst-kept secret in all sports, and former Miami Dolphins head coach Brian Flores intends to change that.
On Tuesday, the 40-year-old Afro Latino filed a class action complaint against the NFL, the New York Giants, Miami Dolphins and Denver Broncos. He alleges that despite all of the promises the league has made over the years and the implementation of the Rooney Rule, very little has changed.
Named after Pittsburgh Steelers owner Dan Rooney, the Rooney Rule aimed to give people of color a better shot at coaching positions in the NFL. It has since expanded to include front office positions.
The problem with the rule is that it doesn't encourage the hiring of people of color. To comply with it, you just have to interview people of color for head coaching and front-office positions. This allows organizations to follow the rule while doing nothing effective to address the real disparity that exists in management positions in the NFL.
The mere presence of the rule is an admittance by the NFL that there is a problem. Unfortunately, that problem persists and Flores is all too familiar with being on the wrong side of it.
A Giant mistake
Brian Flores, the son of Honduran immigrants, was raised in one of New York's toughest neighborhoods. Not surprisingly, he adopted the Lawrence Taylor-led Giants as his favorite team growing up.
You would have to imagine that Flores was over the moon when he learned that the Giants wanted to interview him for their head coaching position not long ago. Conversely, he must have felt shattered after receiving a congratulatory text message (above) from New England Patriots head coach Bill Belichick.
That text was meant another for another Brian, though. Belichick meant to congratulate Brian Daboll. The text proved to Flores that the organization had already made its decision and were interviewing him just to comply with the Rooney Rule.
It must have been the last straw for Flores, who continues his search for a head coaching position to this day.
In a league where 70% of players are Black, as of today only one Black man, Mike Tomlin of the Steelers, holds a head coaching position.
Just in the last cycle, the NFL saw seven head coaching positions open up. Only one of those positions went to a Black man, David Culley, who was then fired by the Houston Texans after just one season.
Many will point to the fact that the Texans posted a 4-13 record, tied for the third-worst record in the NFL. However, they forget that the team released J.J. Watt not long after hiring Culley, and Deshaun Watson did not play a single game while facing 22 civil lawsuits.
Brian Flores ready for war
For coaches like Brian Flores and David Culley, organizations expect perfection. At the same time, they sweep under the rug abhorrent behaviors, like those of someone such as Jon Gruden, who resigned as the coach of the Las Vegas Raiders last fall.
It wasn't until leaked emails revealed homophobic, misogynistic, and racist remarks on behalf of Gruden, that he decided to step down. He shared those emails with a former NFL executive over the span of a decade.
Conversely, in Brian Flores' case, not only did he lead the Dolphins to their first back-to-back winning seasons since 2003, he did it while playing by the rules.
In the complaint, he alleges that Dolphins owner Stephen Ross offered to pay Flores to "tank" the 2019 season for a better draft pick. Ross also allegedly violated the league's tampering rules by setting up an impromptu meeting between Flores and a "prominent quarterback" — Tom Brady? — after the 2019 season.
Flores declined to partake in both instances.
As a result, his reputation was all but tarnished. Reports out of Miami lambasted him as "confrontational" and "difficult to work with."
This has left the Honduran-American kid from Brownsville, Brooklyn, with nothing to lose. Now he is waging war against an American institution.
There's a good chance Flores will be blackballed by the NFL for daring to challenge them. It is a risk Flores was willing go take in search of real generational change.
Get the Our Esquina Email Newsletter
By submitting your email, you are agreeing to receive additional communications and exclusive content from Our Esquina. You can unsubscribe at any time.