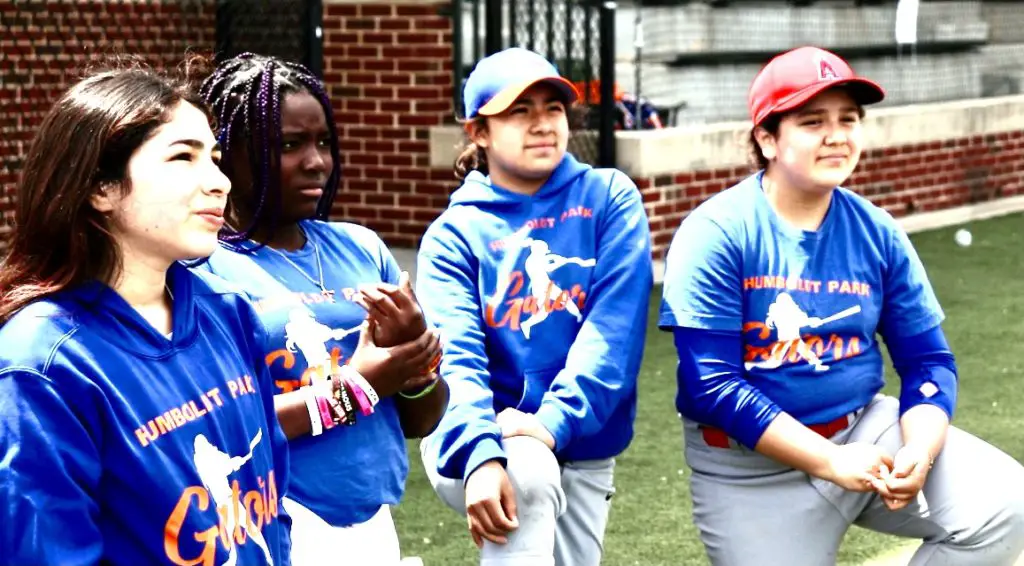 Team of Their Own, Chicago girls find place on baseball team
Humboldt Park Gators prove their all-girls baseball team can compete with the boys.
Leading up to Little Cubs Field, you can smell alcapurrias and relleno de papa getting pulled right out of the fryer as the Humboldt Park Gators show up.
You cannot miss the smell from the delicacies cooking inside the Puerto Rican food trucks as 10-12-year-old girls show up for baseball practice.
Sometimes you might see gentlemen sitting around a table playing dominos for what one can only guess the 100th time. While these are common scenes at Chicago's Humboldt Park, there is a new one taking place at the small ballpark that resembles Wrigley Field.
Little Cubs Field is also home to the Humboldt Park Gators, an all-girls baseball team. They were named in honor of the infamous gator "Chance the Snapper" that roamed Humboldt Park lagoon a little over a year ago. They are also the city's only all-girls baseball team. 
Chip Mitchell, the founder and manager of the team, saw an opportunity when developing the idea of an all-girls baseball team.
Seeing lots of girls playing baseball and softball in other settings, Mitchell decided to organize a girls team.
This idea came to Mitchell after he noticed his daughter Miriam Cardenas-Mitchell was typically the only girl on her baseball teams. 
Mitchell credits Illinois Girls Baseball, which helps organize girls baseball as a starting point in developing the team.
Mitchell made lots of connections through Girls Baseball. He also approached parents of girls who were playing baseball on other teams or softball.
Despite not having any formal paperwork to show, the idea stuck.
An idea grows
"We'd walk up to them," Mitchell says. "We didn't have anything to hand them; just an idea, 'let's start having regular practices and it will lead to a team.'"
After an navigating through obstacles and safety concerns because of the COVID-19 pandemic the Gators have started their inaugural regular season this year.

"I think it's good for all of us to be out here to inspire other girls because we are all breaking barriers," player Rosie Gonzalez said.
The girls are clearly excited to know they are blazing a trail. 
"It feels great because seeing girls play baseball is something you would think you would never see," said player Mía Guerrero. 
Excitement resonates throughout the team. However the girls are fully aware of the challenges that come with being an all-girls baseball team. They don't worry about criticisms or a stigma that perpetuates the idea that girls can't play baseball.
"On a guys' team they may look down to you because you're a girl," Guerrero said. "But when you're playing with all girls you guys are getting along and helping each other get better."
 Zahria Hutcher knows very well how others may feel about the team. "Sometimes they get jealous," she said.
Humboldt Park Gators eager to prove they belong
Anytime they take the field, the Gators carry the proverbial chip on their shoulders to prove to the boys that not only can they play ball but they can beat them too.
"If they're making fun of you and then you end up beating them it's telling them just because we're girls doesn't mean we can't play baseball," Guerrero said. "Proving them wrong is the best feeling and they can respect us the next time we go against them."
Head coach Booker Hatcher already sees something different with this group of girls.
"They're buying into what we are trying to preach to them," Hatcher said. "The growth has been tremendous too. You give them several things to do and they'll do them."
It's a unique opportunity that Hutcher takes seriously. While these may be young girls Hutcher still knows he has to sometimes be tough on them.
"Sometimes I get soft on them. Having that fine balance sometimes is knowing that they are girls but you still got to coach them tough," Hutcher said. 
Whether it's a tough practice or boys not taking them seriously, this group of girls are setting a foundation that some people wish was around earlier. 
"I get a lot of contact from people who say I wish this existed when I was little. What it tells me is that we are blazing a trail," Mitchell said.
In the midst of an ongoing global pandemic the Humboldt Park Gators are doing something that can't be seen anywhere else in the storied baseball city of Chicago. An all-girls baseball team in its first full season is igniting a spark within a Puerto Rican neighborhood that already garners a reputation for competitive neighborhood baseball. 
Among the everyday sights that take place in Humboldt Park; the Gators are starting to create a new one. They hope that one day it becomes an everyday sight to see girls take the field and play the game of baseball.
Get the Our Esquina Email Newsletter
By submitting your email, you are agreeing to receive additional communications and exclusive content from Our Esquina. You can unsubscribe at any time.