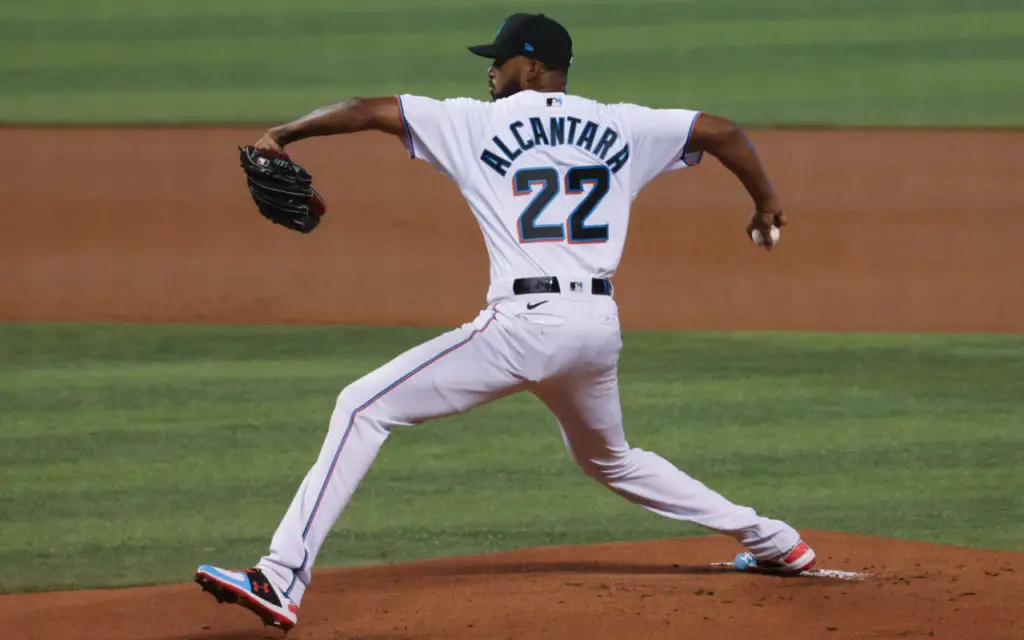 Marlins ace Sandy Alcántara dazzles on Opening Day
Sandy Alcántara is becoming more than an ace
Throughout the spring, Miami Marlins' right-handed starting pitcher Sandy Alcántara made it clear that he wanted to take the next step in his young career when the 2021 regular season commenced. 
Despite having pitched less than 300 career innings and having only two full Major League seasons under his belt, Alcántara, 25, not only wanted to become the Marlins' ace, but their leader as well. 
"There's a lot of young guys coming behind me," Alcántara told reporters. "They're gonna follow me. I've got to keep doing the right thing and keep showing them they can be like me, too."
Starting his second consecutive Opening Day, Alcántara provided the Marlins' young team with the perfect example of how to get things done. He gave a blueprint for what Miami hopes is another season capped with a postseason date in October.
Alcántara tossed six scoreless innings against the defending American League champion Tampa Bay Rays in Miami's 1-0 loss, striking out seven batters, mixing in his changeup and slider to go along with a fastball that topped out at 98.7 mph. 
"He was really good," first baseman Jesús Aguilar said. "The most important thing for him was that he was dominating the strike zone. The changeup was really good, too." 
Alcántara began his outing with two quick outs before a Randy Arozarena single, a walk and a hit-by-pitch loaded the bases for the Rays. 
Change is good for Sandy Alcántara
With Kevin Kiermaier standing tall in the batter's box, Alcántara never wavered, striking him out on three pitches, including back-to-back changeups out of the zone to escape the jam.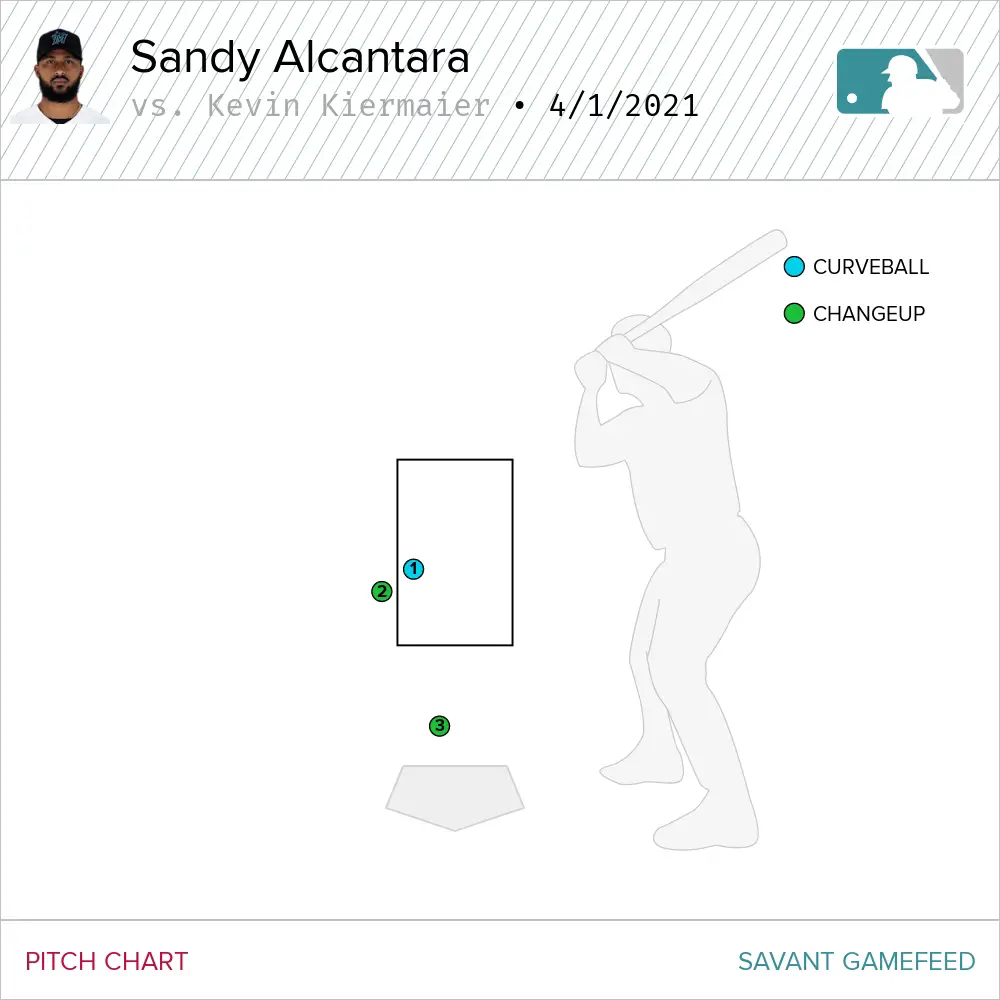 "Just thinking about the situation, I [had] the bases loaded, I gotta throw my best pitch right there," Alcántara said.
The only other hit Alcántara allowed was a leadoff double in the fourth inning. 
Like clockwork, it was that same changeup that allowed Alcántara to escape the inning with no runs allowed. He got two of his three outs on the pitch, including another strikeout of Kiermaier.
"I feel really good throwing my changeup for strikes and getting a couple strikeouts, too," Alcántara said. 
With 26 of 30 teams playing Opening Day games on April 1, Alcántara joined Cincinnati Reds starter Luis Castillo and Colorado Rockies hurler Germán Márquez as just three Latinos league wide to be their team's Opening Day starter.
Last season, Alcántara made his Opening Day start on the road with no fans due to COVID-19 protocols. On Thursday, Alcántara was delivered his first pitch as Miami's ace in front of a crowd of 7,062. 
Calling the home support something needed, Alcántara added, "We feel really happy to have them back." 
Unfortunately for Alcántara and the fans, Miami's offense couldn't muster up any run support against the Rays tour de force of a pitching staff, accumulating just three hits, two of which were from Aguilar. 
"These guys got good pitching," Marlins manager Don Mattingly said. "Anybody they bring in, for the most part's got good weapons. And gives you a little bit of a different look. 
"For the most part, I liked the at-bats. They didn't work out." 
Mattingly, who is entering his sixth season as the Marlins' skipper, was particularly impressed with his young ace.
"I think his stuff is impressive," Mattingly said. "But really what's impressed me most about Sandy is just the continual drive to get better." 
Sandy Alcántara always seeks improvement
Since being named Miami's lone All-Star in 2019 in his first full season, Alcántara has continually sought out ways to improve his craft. 
His hard work showed last season when he pitched to the tune of a 3.00 ERA in seven starts. It was on full display at loanDepot park. The hope is it will continue to show throughout the season. 
"That's what is the difference-maker for me," Mattingly said, "from a guy that's just gonna be a guy with good stuff that's gonna be OK no matter what he does, and a guy that has a chance to become like a top-notch No. 1, when you give him the ball you feel like you're getting seven innings every time he goes out there.
"Sandy's moving towards that. Not that we can do that this year. But he's moving in that direction. That's really what impresses me most about Sandy. And the way he goes about it: His leadership. He doesn't have to go talk. He can do it with his work and the way he goes about his business. That's what you want your guys to emulate."
(Featured photo by Mark Brown/Getty Images)
Get the Our Esquina Email Newsletter
By submitting your email, you are agreeing to receive additional communications and exclusive content from Our Esquina. You can unsubscribe at any time.