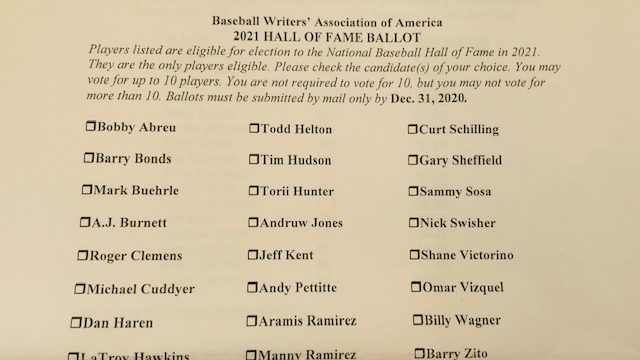 Que Onda (What's up?): BBWAA pitches Hall of Fame shutout
The BBWAA posted a rare shutout, electing nobody to the 2021 Baseball Hall of Fame class
With Que Onda we hope to tell you what's up in the Latino sports world. We'll provide all you need to know about your favorite athletes, personalities and gente.
Welcome to Que Onda, Our Esquina's all-you-need-to-know recap of Latino sports. This is your ticket inside the biggest stories you should know in Latino sports and culture.
We'll highlight stories, players, historical artifacts, social media clips and people within our own communities. 
No New Hall of Fame inductees 
For the first time since 1960 and just the seventh time overall, there will be no new inductees into the National Baseball Hall of Fame. No candidate reached the 75 percent threshold needed for induction on the Baseball Writers' Association of America ballot. 
Five Latinos were on the 2021 ballo. Omar Vizquel, an 11-time Gold Glove award winner, finished the highest among Latinos with 49.1 percent of the vote. Vizquel had a 3.5 percent drop after crossing 50 percent (52.6) in 2020. Vizquel was accused of domestic abuse by his estranged wife in December in a report published by The Athletic. 
Elsewhere, Manny Ramirez saw no change in his standing after receiving 28.2 percent of the vote in back-to-back years. Sammy Sosa and Bobby Abreu jumped to 17 and 8.7 percent of the vote, respectively. Aramis Ramirez did not meet the 5 percent minimum threshold to remain on the ballot (1). 
More Latinos on ballot in '22 
2022 should see the addition of two major Latino baseball icons to Hall of Fame ballots in the form of sluggers Alex Rodriguez and David Ortiz. While both might get in at some point, don't expect either of them to be first-ballot inductees. 
Rodriguez, however, might suffer the same fate as Roger Clemens and Barry Bonds because of his PED suspension.
Serie del Caribe pool nearly final 
Last night, the Caribes de Anzoategui won their fourth Venezuelan league title, beating the Cardenales de Lara 8-7 for a 4-0 series sweep. Former big leaguer Luis Sardiñas won MVP honors. 
The team will now represent Venezuela in the upcoming Serie del Caribe beginning on January 31 in Mazatlán, Mexico, at the Estadio Teodoro Mariscal de Mazatlán. 
They will be joined by the Aguilas de Cibaeña of the Dominican Republic, the Federales de Chiriquï of Panama, the Caimanes de Barranquilla in Colombia and the Criollos de Caguas in Puerto Rico. Still to be determined is the winner of the Mexican league between the Naranjeros de Hermosillo and the Tomateros de Culiacán. 
Women's National Team Hard at Work 
With the roster officially set, the ladies of Mexico Women's National Team are wasting little time in getting ready for the season. 
The roster set on Monday represents the first team set by newly minted head coach Mónica Vergara. 
Vergara, who was named to the position in mid January, became the first female head coach in Mexican women's national team history and just the fifth coach overall. 
After missing the FIFA Women's World Cup in 2019, the ladies of El Trí will look to make it to the 2023 festivities to be held jointly in Australia and New Zealand. 
Around the league 
It's no secret Hall of Fame catcher Ivan "Pudge" Rodriguez punished baseballs throughout his two decade career. 
But did you know he could also punish a golf ball? 
https://www.instagram.com/p/CKe89zJpmpD/?igshid=g6k5kwtf6vv8
In 21 seasons, Rodriguez finished with 2,844 hits and 311 homers to go along with a near .800 career OPS (.798), making him one of the greatest hitting catchers of all-time to go along with his near flawless defense behind the plate. 
In Historia
On this day in 1977, Boston sports writers named Luís Tiant the Red Sox most valuable pitcher. It was his fifth year in a row winning the award. 
Despite having several all-time seasons, Tiant would never win a major year-end award. In 1968 despite winning 21 games with a 1.60 ERA, Tiant did not earn the Cy Young and finished the year fifth on MVP ballots. Denny McLain had 31 wins and ultimately took home the Cy Young and the MVP ahead of Tiant. 
Tiant would finish his career with 229 wins, 2,416 strikeouts and a career 3.30 ERA, good enough for 66.1 bWAR and 54.8 fWAR. 
In 1998, his first year on the Hall of Fame ballot, he finished with 30.9 percent of the vote which should have put him on the trajectory to eventually cross the 75 percent threshold. 
Instead, Tiant saw his ballot percentages decrease until he eventually fell off ensuing ballots. What happened? Well, better and, in some cases, more recognizable pitchers started getting added to the ballot. Jim Palmer, Phil Niekro and Tom Seaver all eventually took the lion's share of votes.

Here's an excellent write-up on how that happened. 
When Tiant was up for election via the Modern Era Baseball Committee, he instead saw that honor go to Jack Morris. 
Now, it's unlikely that Tiant will ever get his due. 
But his case and, ultimately, his career are both worth remembering as one of the greatest all-time Latino pitchers. 
Here's a small glimpse at what El Tiante was able to accomplish: 
From Our Gente
Veteran New York Times sportswriter James Wagner joins Our Esquina's "Digging Deep" podcast to share more about his journey. 
Aspiring journalists should not miss out on the advice Wagner gives during this episode.
Get the Our Esquina Email Newsletter
By submitting your email, you are agreeing to receive additional communications and exclusive content from Our Esquina. You can unsubscribe at any time.