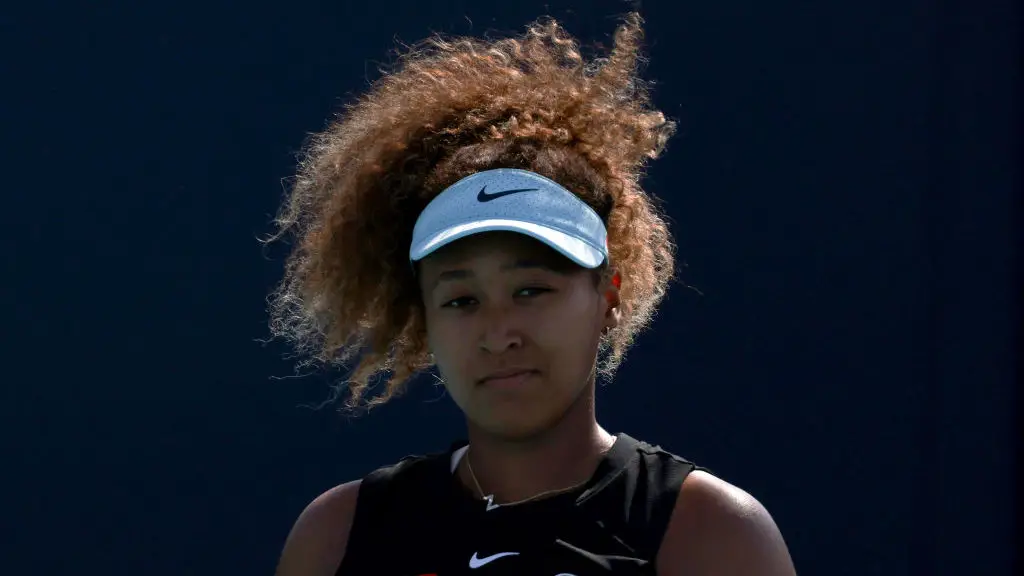 Naomi Osaka is latest to amplify mental health concerns in sports
Sports business columnist Juan Lozano cites multiple instances of mental health concerns throughout sports.
Mental health in sports has received significant discussion in various contexts recently. Tennis champion Naomi Osaka is the latest superstar to shine a light on mental health concerns.
Former Cincinnati head basketball coach John Brannen was terminated for cause due to alleged NCAA rules violations. Brannen has filed suit to contest that termination. He was alleged to have paid for mental health services for a player. 
As Michael McCann points out, "Such a payment might be construed as an NCAA rule violation, though it could also be regarded as a good deed."
I agree with that considering that the player "specifically asked to see a mental health professional who was not an Athletics Department insider." 
Players are starting to recognize that the services provided by their universities come at a cost. They don't trust the process or the personnel provided by schools. 
This is for good reason. School medical professionals can use information learned in the therapy session against the player, if the university has to defend itself in a lawsuit.
NCAA athletes really have nowhere to turn if they have mental health needs.  
Mental health in individual sport
In late April, then-WBC interim lightweight title holder Ryan Garcia withdrew from his first title defense that was scheduled for July 9 against Javier Fortuna. At the time, he cited a need to "manage his health and wellbeing".
Fighters and others in the boxing community rallied to Garcia's defense as soon as he made the announcement.  
After Devin Haney's narrow victory over Jorge Linares this past Saturday, Garcia offered his opinion on Haney's performance with a "I've would slept you" message on an Instagram story. "Slept" is a euphemism for knocking someone out.
Haney's "true definition of a coward response to Garcia may have been harsh. It was predictable, though, considering that Haney faced a formidable and dangerous opponent while Garcia chirped after citing mental health issues and backed away from a previously scheduled fight. 
Garcia spoke about another fighter in a derogatory way when his own condition leaves himself protected from scrutiny. That was a curious play. This seems to hinder athletes' mental health movement. 
Naomi Osaka takes stand at French Open
Two days later, Naomi Osaka, one of the most exciting tennis players in recent years, pulled out of the French Open citing mental health concerns. This was after a well-publicized battle regarding her press availability.  
Osaka's refusal to perform media obligations centered on her mental health. This seemed to be a significant reason for her withdrawal from the Grand Slam event. 
If Osaka states that she isn't able to compete due to mental health reasons, I'm no one to say she should. I don't know what it is like to be her. I wish Osaka the best. 
However, one of the most interesting and nuanced points of discussion around the issue came on the Dan LeBatard show, specifically from show contributor, Stugotz. 
In the episode, Stugotz alluded to the appropriate response would be the creation of a "Super League."
I am totally on board.  
This isn't from the standpoint of "you don't like the rules, so get out." I co-sign this idea from the standpoint of "create your own league, with rules that allow you to flourish and profit in a way that is better for you than what you are currently experiencing."  
We think that fans want to see stars play tennis. They don't want to see events absent the best players in the world. 
Foreign domination at UFC
The UFC was successful and profitable during the pandemic shutdown. Their success has continued as the country opens up from the pandemic. 
On June 12 at the Gila River Arena in Glendale, Arizona, the fight promotional company is set to stage UFC 263, which includes two rematch fights for world championships. None will feature American-born fighters. 
The main event is a re-match for the Middleweight championship as current champion Israel Adesanya (Nigeria/ Australia) fights Marvin Vettori (Italy). In 2018, Adesanya won via split decision.
The co-main event pits current flyweight champion Deiveson Figueiredo (Brazil)  against challenger Brandon Moreno (Mexico). This is a re-match from UFC 256, held in December 2020. Figueiredo retained the title after that contest was scored a majority draw.
This reflects the fight company's best talent. Only two of the 12 title belts are currently held by fighters born in the United States. 
Heavyweight (Up to 265 pounds)- Francis Ngannou (Cameroon/ France)
Light heavyweight (205)- Jan Blachowicz (Poland)
Middleweight (185)- Israel Adesanya (Nigeria/ New Zealand)
Welterweight (170)- Kamaru Usman (Nigeria/ United States)
Lightweight (155)- Charles Oliveira (Brazil)
Men's featherweight (145)- Alexander Volkanovski (Australia)
Men's bantamweight (135)- Aljamain Sterling (United States)
Men's flyweight (125)- Deiveson Figueiredo (Brazil)
Women's featherweight (145)- Amanda Nunes (Brazil)
Women's bantamweight (135)- Amanda Nunes (Brazil)
Women's flyweight (125)- Valentina Shevchenko (Kyrgyzstan/ Peru)
Strawweight (115)- Rose Namajunas (United States)
American fans have a hard time embracing foreign champions in most major sports, but the UFC appears to be the exception. You can debate me on this point, but you'll be wrong as I remember tennis fans booing the entire Willliams family in Serena Williams' match against Kim Clijsters. 
Return of Jim Lampley and Brian Custer moves to Showtime 
One of boxing's greatest storytellers, Jim Lampley, returns to the airwaves. Lampley is now under contract as the lead play-by-play announcer for Triller Boxing, beginning with the June 19 card in Miami headlined by undisputed lightweight champion Teofimo Lopez. 
Lampley was previously under contract with HBO Boxing. He was with the network from March 1988 until December 2018, when the network ceased airing boxing. 
The 72-year-old Lampley has always shown an appreciation for the fighters and is known for having an unbelievable memory and displaying emotion on air. His hire signifies that Triller intends to continue broadcasting fights, despite the loss of social media star-turned-fighter Jake Paul to Showtime. 
Starting in July, sportscaster Brian Custer, will anchor SportsCenter as well as provide play-by-play commentary for college basketball and football broadcasts. He will continue to provide his services to Showtime Championship Boxing broadcasts. 
Baseball injury report
It's just a matter of time before Major League Baseball begins to mandate daily injury reports from each of their teams prior to their participation in a contest.
Recently, the Philadelphia Phillies, led by manager Joe Girardi stated, in response to a purposeful non-disclosure of player injuries, 
"Just so you guys know, we're going to approach this different. … I've talked to people in our organization. Just a manager's decision and I'm not going to share anything— who's available, who's not available — because I think it's somewhat unfair to us. Just like if you were to do something, you're not necessarily going to share it with a rival reporter. So that's the way we're going to handle it, just manager's decision."
MLB is stuck having to balance two competing values; maintaining a team's perceived competitive advantage by withholding injury information versus giving fans and gamblers information that they desperately need.  
Simply, the league has too many gaming partners – Bally's, DraftKings, MGM – for the secrecy status quo to continue. 
Customers will want the most current information to have the best gaming experience. We think the customer will win out in this battle. 
Stadium issues not new in San Francisco Bay Area
Recently, A's President Dave Kaval went to Twitter to voice his displeasure with San Francisco media discussing the A's stadium issues in Oakland and cities not named Oakland willing to give the franchise a modern stadium in a new locale. 
The perception that San Francisco collectively is picking on Oakland unnecessarily  is subject to debate. The most interesting thing about this is that San Francisco-Oakland teams have had major issues with facility construction. 
Especially the Giants. From about the mid-1970's until 1996, the Giants were trying to leave their Candlestick Park digs for a stadium inside San Francisco proper. 
How quickly San Franciscans forget that the Giants were on their way out of town a number of times, including after great seasons. 
In 1987, after reaching the National League Championship Series, San Franciscans rejected Proposition W that would have moved the team from Candlestick Park to Downtown San Francisco. 
Two weeks after being swept in the 1989 World Series by the A's, Proposition P failed. 
At various times over about 20 years, the Giants were set to go to Toronto, San Jose (a Giants stadium ballot initiative failed there too) and the Tampa Bay area, among other cities. 
It's easy to poke fun at the A's and their situation. But at one time the Giants and their fans were going through the exact same thing that the A's and their fans currently are. 
As a former resident of Alameda County, I feel for the A's fans. 
Get the Our Esquina Email Newsletter
By submitting your email, you are agreeing to receive additional communications and exclusive content from Our Esquina. You can unsubscribe at any time.