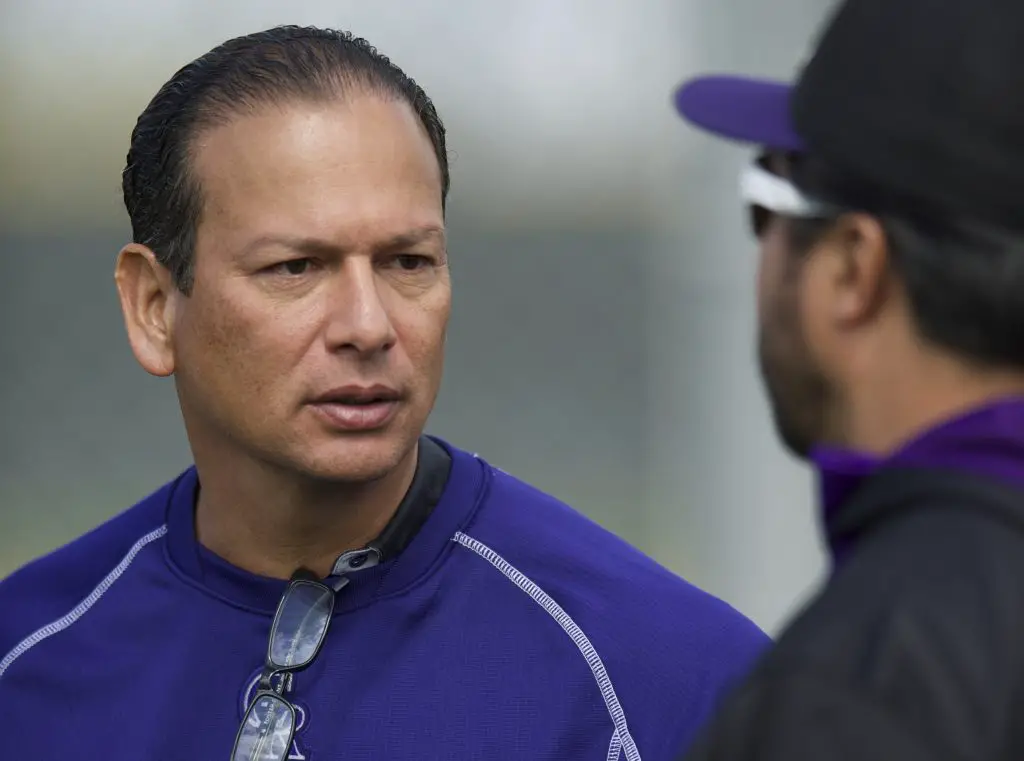 Colorado Rockies Executive Rolando Fernández Honed Eye For Talent Early
Rockies VP or international scouting Rolando Fernández inspires players to see challenges as opportunities.
As a student-athlete from Puerto Rico, Colorado Rockies executive Rolando Fernández remembers a time where he stood in the middle of the cafeteria in Northwestern State University of Louisiana. On one side sat the white students and on the other side sat the Black students.
Feeling like he didn't belong on either side, Fernández decided to sit with both. One day he would sit with one group, and the next day he would sit with the other. He switched every day, mixing and mingling with everybody.
"People would ask me, 'What are you?'" Fernández recalls. "I told them that I am Puerto Rican. I am Latino. I don't have a race."
Fernández didn't want to be penciled in as white or Black. It wasn't like that back home in San Juan.
Instead of focusing so much on who he appeared to be on the outside, he worked on making good impressions. He focused on helping others and trying to be more available, all with a smile on his face.
This is a message Fernández extends to his players in his role as vice president of international scouting and development for the Rockies.
"I don't want anybody to use their differences as an excuse," he said. "The other way around, you can use it as a challenge."
A Baseball Psychologist
Rolando Fernández always wanted to be a big leaguer. From his days playing in front of his house with a broomstick in Puerto Rico to his time in the Chicago Cubs' minor league system.
However, in his third season in the minors, Fernández realized that he was 25-years-old and in High Class A. While he possessed the work habits and passion for the game, other players had enough raw talent to outperform him.
This presented another challenge. He wanted to remain involved in the game, but playing wasn't an option any longer.
So, he transitioned into coaching, where he learned to become something of a psychologist. While Fernández mostly coached in the lower levels, the majority of his players were from Latin America.
Many of these players came from humble backgrounds. Finding themselves among so many talented athletes, sometimes they begin to doubt themselves.
Quickly, Fernández learned to work by a set of principles:
Establish a relationship and trust with a player.
Make them believe they can do it.
Then coach them.
"As a coach, it's not really how much you know about the game," he said. "It's keeping that player believing that he can do what he loves to do."
Rockies Fortune Teller
After several years of coaching within the Colorado Rockies' system, Rolando Fernández eventually found himself signing international players, mostly from Latin America. Unlike coaching, scouting was more cut and dry.
You have to say whether someone can play or not. Whereas, with coaching, your job is to make a player believe that he can play in the big leagues.
For Fernández, the real challenge in scouting internationally is how young the players are and how limited the information on that player is. This requires you to sometimes start projecting a player and signing them as young as 16-year-old.
To overcome this, Fernández narrows his focus on a player's makeup and aptitude. Then, he plays the waiting game, sometimes waiting until that player is in his early 20's before making it to the big leagues.
With a laundry list of players that he signed enjoying MLB careers, guys like Ubaldo Jiménez, Pedro Strop, and Jhoulys Chacín, it's safe to say that Fernández has found his calling
In more than 30 years in professional baseball, 28 in the Rockies organization, Fernández hasn't met a challenge he couldn't overcome. To him, this character trait was enhanced when he was a player.
"Playing teaches you how to compete, to prepare, and to be responsible," Fernández said. "It gives you a core value that makes you stronger as a person."
Get the Our Esquina Email Newsletter
By submitting your email, you are agreeing to receive additional communications and exclusive content from Our Esquina. You can unsubscribe at any time.