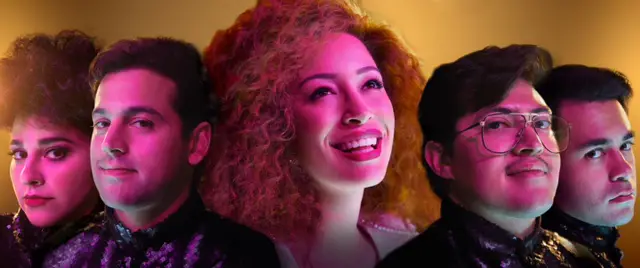 Selena taught us it's OK to be unapologetically Latina
Selena: The Series reminds us it's OK to like new and different things.
Selena Quintanilla-Pérez died two years before I was born, the same year the biopic chronicling her life and death was released. As I grew up on the Texas-Mexico border as a second-generation Mexican-American, Selena's music was always playing in our house.
Learning about Selena was both exhilarating and crushing. At just 23, she accomplished so much and blazed a bright trail for Latinx women. It was difficult to understand as a kid why someone who claimed to love her would take her life. 
While it's hard to think about Selena without thinking about her tragic end, instead I think about the way she lived her life and what she accomplished. She made such a big impact that almost 26 years after her death she's still inspiring generations of women across the world. 
Netflix's Selena: The Series, released on Dec. 4, will tell her story to perhaps a younger and wider fan base. For existing fans, it was a way to learn more about the Queen of Tejano music.
At least that was the case for me. My mom, who introduced me to Selena, on the other hand, wasn't planning to watch "Selena: The Series" because she followed her career in real-time.
To each their own, I guess. 
Selena: The Series telenovela scene resonates
There was a scene in the series where Selena, played by Christian Serratos, is trying to learn Spanish. She's listening to Berlitz language-learning tapes. She then instead turns on the television to a telenovela. Then she starts repeating the words in the same dramatic fashion as the actress.
I laughed so hard because that's how I learned Spanish growing up. If we're being honest, I'm still learning. 
Whether or not that actually happened in real life, that snippet is representative of what many Mexican-Americans go through. We learn two different languages to communicate between our two different cultures to try to fit in just enough on both sides. 
Selena masterfully navigated between the two. She proved you don't need to speak the best Spanish to remain in touch with your Hispanic Heritage. The Queen of Tejano music also proved it's OK to like new and different things. 
Selena captivated multiple generations
Few people can captivate generations with their music and their life story. Selena is one of those people. Her music is played in stadiums and backyard carne asadas.
Those songs range from sad ballads like No Me Queda Mas, to Bidi Bidi Bom Bom. There's always a song to fit the mood you're in. 
Years later, as I navigate my own path into adulthood, I think about the things Selena was going through at my age. The rising fame. The love for her husband and family.
Her dreams were unable to become reality. Most importantly, I think of the impact she made. 
It's hard to put into words what an artist means to you, especially when that artist wasn't around by the time you were born. 
This is certain, however, Selena taught me that it's more than OK to be unapologetically Latina.
It's OK to struggle with your Spanish when you speak. But, most importantly, she taught me to love my craft and my family harder. 
Selena Quintanilla-Pérez lived for only 23 years, but, boy, did she live them ferociously. 
Get the Our Esquina Email Newsletter
By submitting your email, you are agreeing to receive additional communications and exclusive content from Our Esquina. You can unsubscribe at any time.